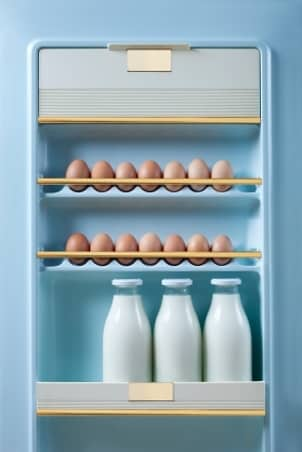 Of all the large appliances in your kitchen, your refrigerator is definitely one of the most important. If you're in the market for a new refrigerator, chances are you want to make sure you buy the right refrigerator for your home and family. There are several different kinds of refrigerators, and each one has its pros and cons. Learn more about the different types of refrigerators below.
Which Refrigerator is Right for You?:

Top freezer: As the name implies, the traditional top-freezer refrigerator features a freezer on top with the refrigerator on bottom. This was one of the earliest models ever made, and today it is one of the least expensive. Top-freezer refrigerators range in size from 30 to 33 inches wide, with an average usable space of between 20 and 22 cubic feet. This type of refrigerator offers a lot of room, allowing you to store wide items, such as large casserole dishes or cakes.

Bottom freezer: A variation on the top-freezer design, this arrangement places the more often-used refrigerator on top, reducing the user's need to bend over to reach items on the bottom shelf as happens in top-freezer models. The bottom freezer may pull out like a drawer or open like a door. Bottom-freezer refrigerators are a little bit more expensive than the top-freezer type, and you still have to bend over when you want to reach an item in the freezer. They average about the same width as top-freezer types, but tend to have smaller usable space in the refrigerator section.

Side by side: Side-by-side refrigerators place the freezer parallel to the refrigerator, with each having a door that opens from the middle of the appliance. Usually the refrigerator is slightly wider than the freezer. The size of a side-by-side refrigerator averages between 26 to 30 inches wide, with a usable space of up to 26 cubic feet. The shelves are narrow in a side-by-side refrigerator, making it difficult to fit large items, such as a frozen pizza. In a small kitchen, however, the narrow doors are a plus, and most side-by-side refrigerators feature water and ice dispensers in the doors. Side-by-side refrigerators usually cost about the same as bottom-freezer refrigerators.

French door: French door refrigerators partner a side-by-side refrigerator with a bottom freezer. These are the most expensive types of refrigerators, and they offer the best of both worlds, with wide shelves on top and equally wide shelves on the bottom, as well as a water and ice dispenser in one of the refrigerator doors.

Built-in and cabinet-sized: Built-in and cabinet-sized refrigerators are designed to blend into the wall of cabinets in a kitchen. They take up less space in the room, but the downside is that they also offer less storage space. They are usually of the side-by-side or bottom-freezer design and are more expensive than standard-sized refrigerators.

Refrigerator drawers: Refrigerated drawers are installed under your countertop, much like a dishwasher. These cooled drawers pull out to allow access to perishables and are popular in luxury kitchens. Novel and expensive, refrigerator drawers are not energy efficient and do not keep food frozen.

Buy Refrigerators
Back to Guides Directory