There's nothing quite like the beckoning glow of good lighting. From ornate chandeliers to sleek table lamps, here's how to use your fixtures so attractive light radiates through your whole home.
How you light a room plays a vital role in the feel of your home. The ambiance of any space is inseparable from the style and placement of your lights. Properly placed lights enhance your decor and set the mood of the room. Read below about the different types of lighting you can use to create a comfortable and inviting atmosphere in your home.
How to Decorate with Chandeliers and Pendants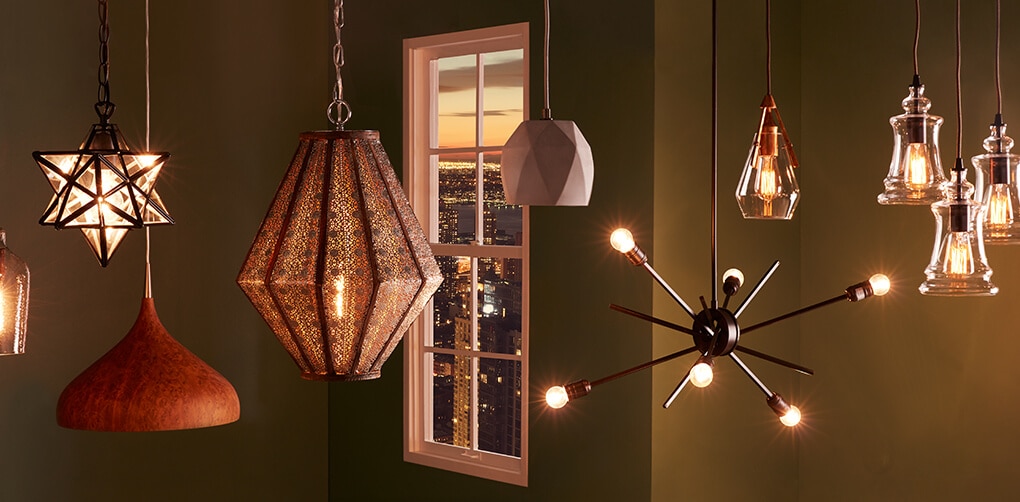 Chandeliers and pendants are stylish lighting options for any room. Since these light fixtures are hung from the ceiling, they don't take up any floor space. The style of light you choose and how you hang it will depend on how you'd like your room to be lit. For example, would you want a chandelier that brightens an entire room or provides focused, downward light in one area? A chandelier provides a room with ambient light. Ambient light describes when a room is fully illuminated by a single source of lighting.

A chandelier should be centered above the focal point of the room — over the bed in a bedroom, lined up with a mantel or centered in the seating area of a living room, or over a dinner table in a dining room.

To light specific areas like countertops, opt for pendants with downward facing shades. Use several evenly spaced pendants to highlight the desired areas. Pendants with semi-transparent shades can also be hung low over side tables in a living room or bedroom to replace table lamps. Lights should be scaled to fit the size of the room they brighten — larger rooms require larger lighting fixtures and vice versa.
How to Hang Lighting
Entryway, Hallways, and Living Rooms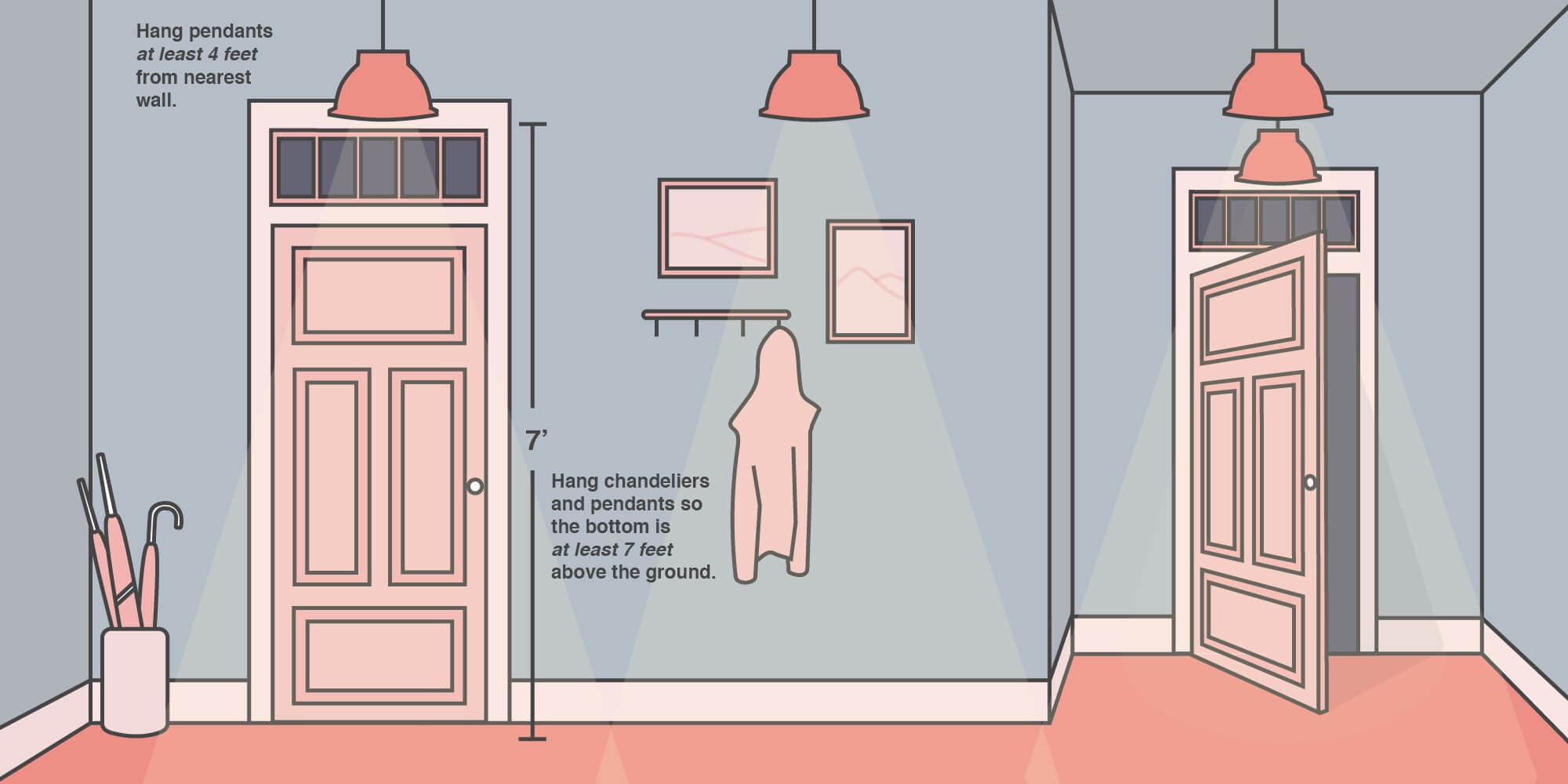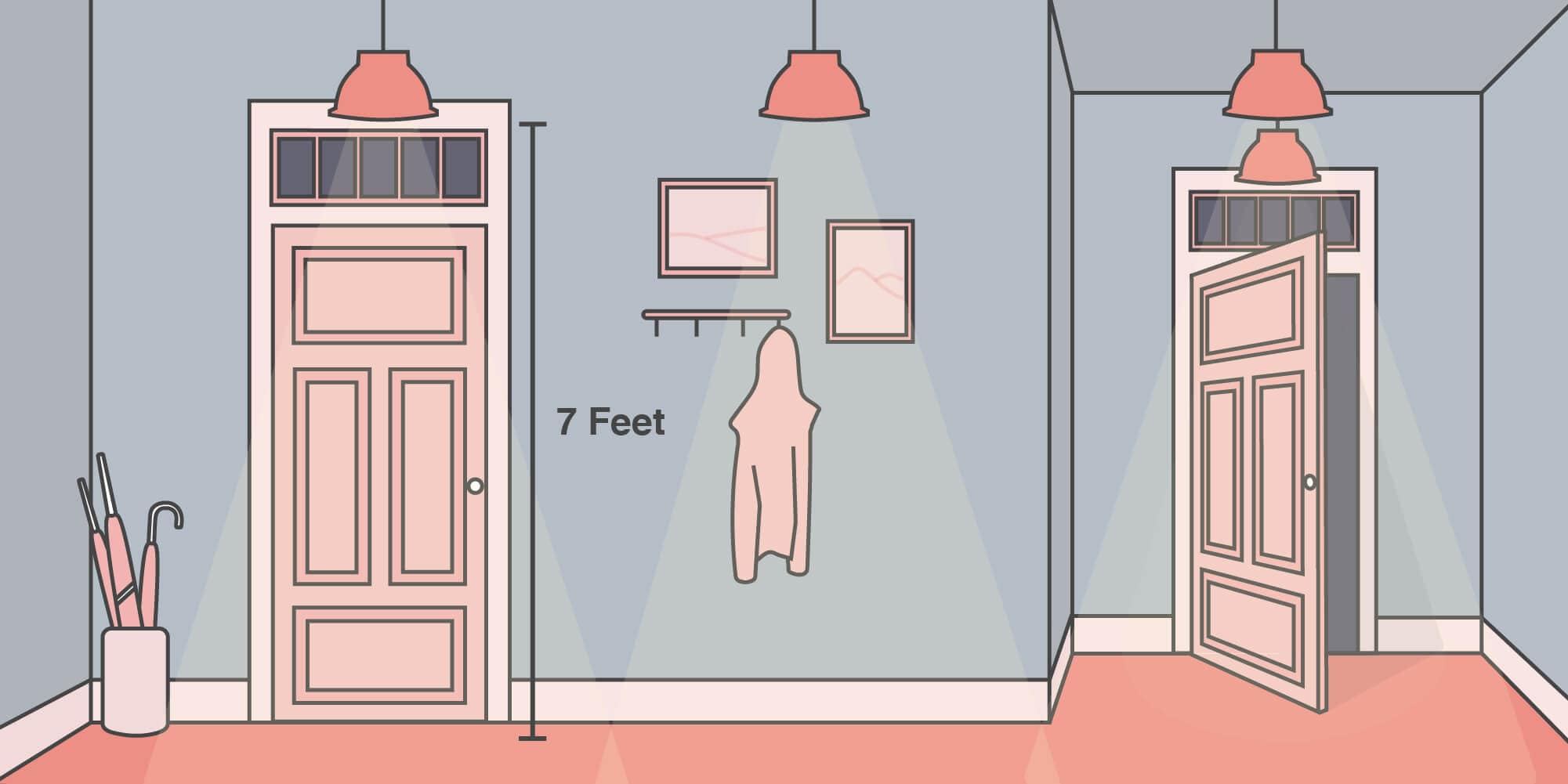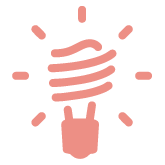 Lighting Tip
Hang chandeliers at least 7 feet above the ground. If the light hangs from a 2-story ceiling, don't let it hang lower than the height of the first floor.
Kitchen Island and Dining Room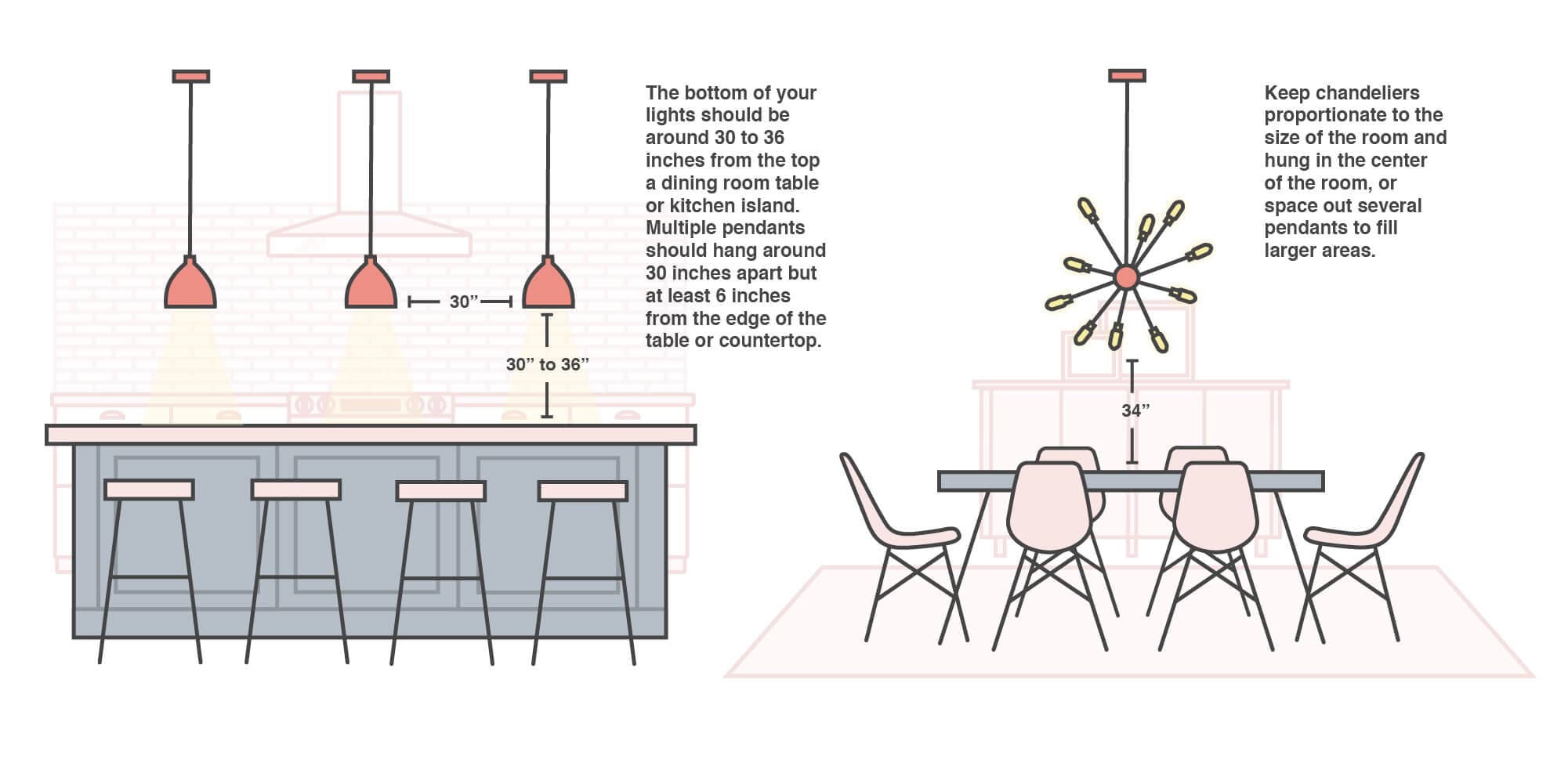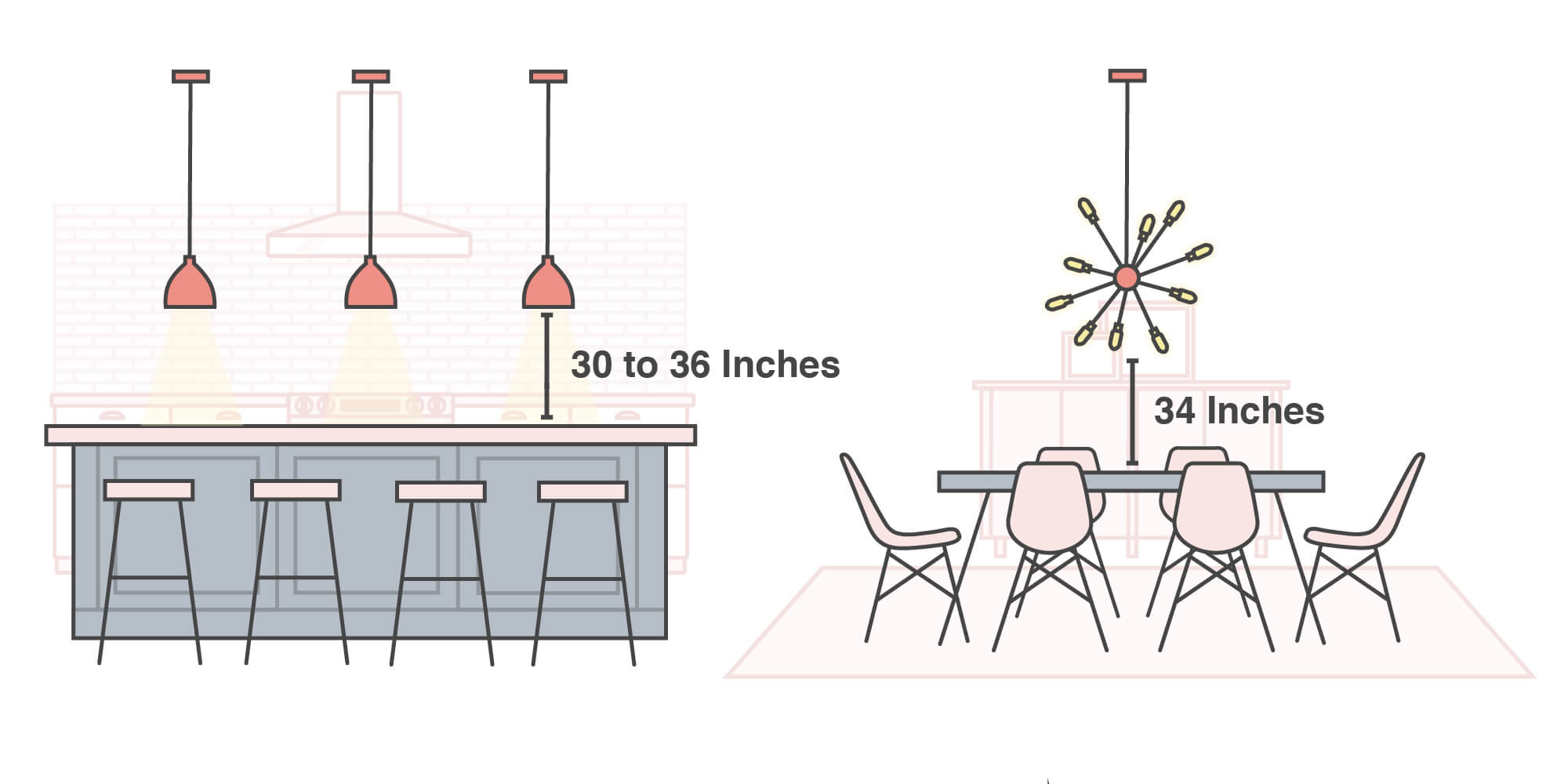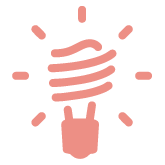 Lighting Tips
Hang lights 30 to 36 inches above a dining room table or kitchen island and around 30 inches apart from each other, but keep them at least 6 inches from the ends.
The length and width of a room added together should be the around same number as the diameter of the chandelier. For example, a room measuring 15 feet by 20 feet, 35 feet in total, should have a roughly 35-inch chandelier.
How to Decorate with Floor Lamps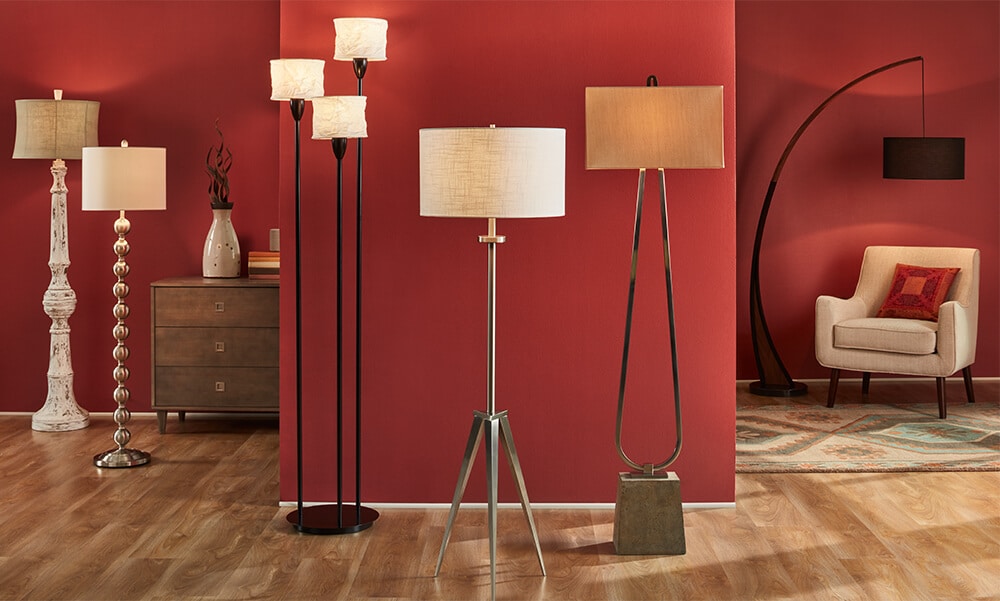 Decorating with floor lamps is a quick and convenient way to brighten dim areas and complement your decor. Living room lamps should be arranged so they won't be in the way when your guests are socializing in the sitting area. The height of the lamps and style of shades should hide the bulb from view when you're standing or sitting near them. Position pairs of matching lamps on the sides of a sofa or entertainment center to bring a stylish symmetry to your social area and evenly illuminate your space. The ambient light from floor lamps is also perfect for reducing shadows created by overhead lighting in a dining room or bedroom. For soft mood lighting, use torchiere floor lamps with glass shades and low-watt bulbs.

Floor lamps can also provide bright lighting in smaller areas. A lamp with an adjustable neck or shade allows you to direct light where you need it the most. These work great as reading lamps or desk lamps. Use arc floor lamps with downward facing lights to provide overhead lighting in a living room or over a dining table.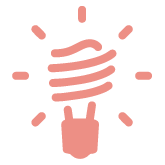 Lighting Tip
Lamps near sitting areas should be around 68 inches high so the shade conceals the bulb whether you're standing or sitting next to it.
Choose a lamp shade that will accentuate the style of your lamp and control the intensity of the light. Use our How to Buy Lamp Shades guide to find the perfect option for your lamp.
How to Decorate with Table Lamps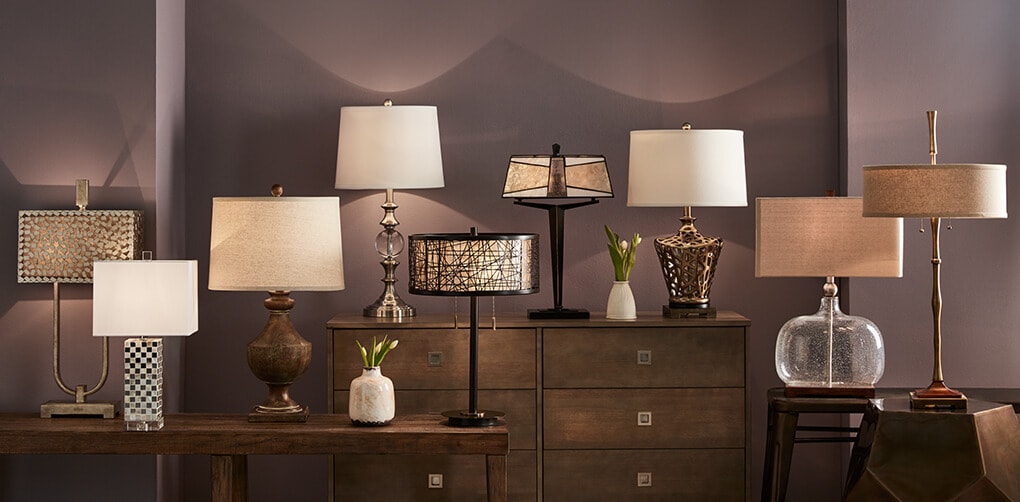 Table lamps work alongside your decor to bring beauty and light to your living space. These space-conscious light fixtures are generally paired with a desk, side table, buffet table, or another flat surface that gives them the height to softly illuminate a room. If you need more light than a single table lamp can offer, then place multiple table lamps throughout the room. Decorating with a pair of table lamps is a popular way to create balance in your space. Place a lamp on either end of your sofa, console, or buffet table to add symmetry to your decor. Bring balance to your bedroom by adding a table lamp to the nightstand on either side of your bed. Paired lamps don't necessarily need to be the same. Try mixing different lamp styles of similar heights for a more eclectic look.

Desk lamps and bedside table lamps provide localized lighting that can make working and reading easier. Choose lamps with opaque shades or adjustable lights to brighten a desk or reading nook without lighting up a whole room. Because these lamps are usually only used during certain activities, pick touch lamps or lamps with easy-to-reach switches that can conveniently be turned on and off.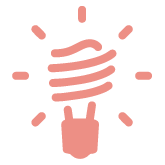 Lighting Tips
Table lamps on nightstands or side tables should have a height and a shade that will conceal the bulb while you sit or stand near it.
When arranging multiple table lamps, choose lampshades of similar materials so the amount of light filtered through the shades stays consistent.