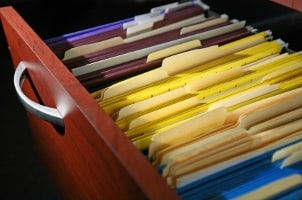 You'll immediately see the benefits of file cabinets when you add them to your office. Adding a filing cabinet to your collection of home office furniture will help you stay organized. File cabinets in your office keep your important papers and documents all in one place for easy and immediate access. There are many choices to consider when you're shopping for file cabinets, but there's no need to be overwhelmed. Do your file cabinet research and choose the one that best matches your office furniture and storage style instead of picking the first one that you come across. Keep reading to learn about the different types of file cabinets.
File Cabinet Types:

Metal file cabinets. Most people consider metal file cabinets traditional home office furniture. Professional businesses also prefer this type of file cabinet because of their longevity and durability. Metal file cabinets are sturdy and will last a long time if properly maintained. In times past, they were only available in subdued and muted colors, like grey, tan and black. However, these metal file cabinets have evolved with fashion over the years and are also available in bright and vibrant colors.

Wooden file cabinets. Wood file cabinets function just the way that metal file cabinets do, and they are usually just as sturdy and protective of your valuable documents. In addition, wood file cabinets come in a variety of colors. Warm cherry wood is used in offices to make the atmosphere seem cheery and more welcoming. Dark and fashionable espresso-colored wood is perfect for a modern theme.

Wicker file cabinets. A wicker file cabinet is not as sturdy as a wooden or metal file cabinet, but they are still quite useful pieces of office furniture. Their frames are usually metallic with the tray or basket made of wicker. These types of filing cabinets are usually incorporated for aesthetic purposes. Their casual look brings a more laid-back atmosphere to an office. You'll seldom find a wicker filing cabinet in a professional office, but they're perfect for home and personal use.

Rolling file cabinets. These lightweight file cabinets are perfect for short-term storage. Rolling file cabinets lack the hard protective shell that metal cabinets have, but will still keep your office documents safe. Rolling file cabinets are perfect if you need to move files from room to room for presentations or to make copies.

Vertical file cabinets. The shape of a vertical file cabinet is the most traditional of all file cabinets. Its tall and slender frame makes it easy to store in a corner and use the extra space for other office furniture. Most vertical file cabinets have three to six drawers that make it easy to organize and separate your files and folders.

Lateral file cabinets. A lateral file cabinet has wide drawers which allow you to store oddly shaped documents like legal papers or maps. Also known as horizontal file cabinets, they usually store files side-to-side instead of front-to-back. In addition to extra storage space inside -- horizontal file cabinets can usually store up to one-third more than their vertical counterparts -- they also have extra topical surface. A lateral file cabinet's large top allows you to store additional office supplies or to add decorations.

Buy File Cabinets
Back to Guides Directory