TV Wall Mounts Buying Guide
by Staff Writer
The placement of your TV creates a focus for your home theater and can affect your choice of furniture for the room. Television mounts are designed specifically to hold the weight of LCD or plasma TVs in fixed or adjustable positions. This TV wall mounts buying guide will help illustrate the options you have for mounting flat-panel televisions for an optimal viewing experience.
Buying a TV Wall Mount: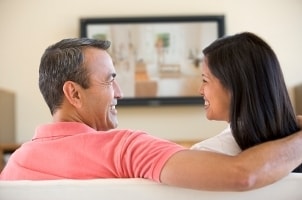 Shop Television Mounts ▸
VESA standards:

The Video Electronics Standards Association is an international nonprofit corporation setting voluntary, industry-wide standards for electronics, including TV mounts. The rule is simple: Televisions and TV mounts marked "VESA mounting compliant" will fit together. Non-compliant TVs and TV wall mounts can also be fitted together, but they will require an adapter plate.

TV wall mount categories:

TV mounts may include various features to help you position and adjust the angle of your TV screen. You can find a TV wall mount for your HDTV in one or more of these categories, depending on what type of control you need over the TV.
Types of Wall Mounts
Low-profile:This is the simplest, most economical TV wall mount. Basically, it's a simple metal frame with two upright posts or a plate where your flat-screen TV attaches. These thin-profile mounts may extend just one inch from the wall. This TV mount does not pan, tilt or rotate; it simply holds your flat-screen television squarely on the wall like a picture frame.
Tilt: Tilting TV mounts need to extend farther from the wall (generally 2 to 4 inches) to accommodate the tilting mechanism. Tilt TV wall-mounts generally move the screen 5 to 15 degrees up or down, with locking mechanisms to freeze your TV at the desired angle. These TV mounts work well if the TV is mounted high on a wall above the seating area.
Swivel: Swivel TV mounts pan side to side and may also tilt up and down. Construction styles vary, sometimes including a support arm with one or more joints. An articulating swivel TV-mount can extend the TV from the wall and turn the screen over 180 degrees horizontally.
Ceiling mount:

Ceiling TV wall-mounts are made to hold either an HDTV or a home theater projector. You can use a ceiling mount when you want the TV located away from a wall or in a position where wall-mounting may be awkward.

Platform mount:

Platform TV wall-mounts are used primarily for CRT televisions. The TV set sits on a shelf or platform, which is atop the support arm attached to the wall or ceiling. These TV mounts can also be designed with multiple shelves, holding a TV plus a DVD player or cable box.

Flip-down or under-cabinet mount:

For very small television sets first designed for kitchen use, under-cabinet TV mounts are also useful in dorm rooms, office cubicles or anywhere else where space is very limited. They attach to the underside of cabinets, allowing your TV set to flip out of the way when not in use.

Installing your TV wall mount:

You may want to have one or more people assist you with installing the TV mount and attaching your TV.
Wall Mount Installation
Find a wall stud. Flat-screen TVs are much lighter than older CRT televisions or rear-screen projection TVs, but they may rip out of the wall if not secured to studs. You may need to pre-drill the holes, especially if you have concrete walls or walls with metal studs.
Secure the mount. Once your spot is chosen and your holes are drilled, secure the TV wall mount according to the instructions. Depending on your TV type and the TV mount you've chosen, the TV may simply slip onto the mount or attach via an adapter plate.
Extra features on TV wall mounts:

Many TV wall mounts feature cable management systems to conceal A/V cables running between your TV and other home theater components. Cable management can make sure your flat-screen installation looks great, with no distracting wires between the entertainment center and the TV wall mount.