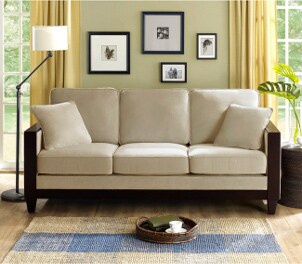 When it comes to living room fashion, your choice of sofas and loveseats determine whether your home decoration skills are a fashion triumph or flop. Your choice of sofas and loveseats is as important as your living room's paint color and art on the wall. Seating is about more than just providing a place for your guests to rest. Your living room can easily become the center of high fashion if you pick the right furniture. Luckily, picking out the right sofa and loveseat for your living room is easy, thanks to the many fashionable furniture styles available. Keep reading for the scoop on the different types of trendy sofas and loveseats that are available for your living room.
Popular Styles of Sofas and Loveseats:

Furniture sets. Living room furniture sets are by far the most popular choice because they eliminate worry over whether or not new pieces of furniture match. When you get a living room furniture set that includes a sofa, loveseat, ottoman and armchair combination, you're automatically ensured that they'll all match each other. Take your pick of the ever-popular microfiber fabric couch or leather couch for a timeless and classy look.

Chaises. These pieces of living room furniture are ideal for creating a cozy atmosphere, inviting you to stay awhile and take a break. A chaise is about the same size as the average loveseat. Place your new chaise near a window for a beautiful view and a chance to get some extra sunshine during the day. You can also set up a bookshelf near your chaise and create your own personal reading nook. Lounge chairs can come in leather, microfiber and cotton fabrics. Get a smooth look or invest in something different, like a tufted chaise lounge chair.

Futon. This piece of furniture rarely receives the credit it deserves. Not many people think a futon belongs in the category of trendy furniture, but it definitely merits attention because of its versatility. Most futons come as a couch and bed combination, but there are a few that convert from a chair to a bed. Its versatility doesn't just stop at couch and bed combinations. A futon can come in a variety of colors and fabrics. It will be easy to find the one that you want that will match your living room.

Sectionals. This seating option gives you a lot of alternatives when decorating your living room. You can leave the couch all together to encourage conversation or you can separate the pieces and scatter them around the house or around your living room.

Sofa and loveseat. Of course, if you just want to keep it traditional, you can always decorate your living room with a classic sofa and loveseat set. The great thing about these pieces of furniture is that your sofa and loveseat can come in a variety of different styles. You can pick cotton, leather, microfiber, suede or wood for your furniture. Invest in boldly colored fabric or spice up your neutral couch with brightly patterned pillows. Your living room will make a bold and positive fashion statement. This is your room, and you get to style it your way.

Buy Sofas and Loveseats
Back to Guides Directory