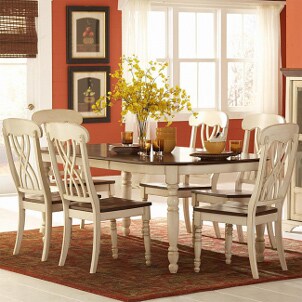 Today's dining sets are capable of making bold and brilliant statements about your home. Picking the right dining sets for your home should be a top priority. If you're looking for new dining room furniture, be sure to keep reading about all the different kinds of trendy dining sets.
Dining Set Trends:

Wooden dining sets. Sturdy wooden dining sets will last for a long time and serve you well. It's easy to match an attractive wooden dining set made from warm-colored wood to your dining room. In addition, wood dining room furniture is available in many styles and shades. For a modern dining room, invest in dining room furniture that features straight and sleek lines. If you're going for a more traditional look, then buy a dining set that includes intricate carvings.

Antiqued dining sets. It can be difficult to find a genuine antique dining set that matches your dining room. Consider investing in a dining set that has been made to look like an antique instead of trying to force a real antique to fit your pre-existing home decor. You want your dining room furniture to blend in, not stick out. An antiqued dining set is often sturdier and easier to care for than a real antique table.

Dark-colored dining sets. Black or espresso-colored dining sets are very popular and come in a variety of materials like wood, leather and upholstery. A black or espresso-colored dining set looks best in a light-colored and brightly lit room. The dark material will contrast nicely against the light walls and provide a nice dynamic look for your dining room. Dark finish dining sets also match dining rooms that have a formal color scheme as well. A formal dining room with dark furniture gives an air of sophistication.

Glass-topped dining sets. A large table made of glass would actually be quite fragile, so many glass-topped dining sets are small. Small glass dining sets are popular for breakfast nooks. Most glass-top dining tables have stands that are made from wrought iron to give them extra stability. As a bonus, the glass top reflects light, which adds a charming touch to any room.

Wrought-iron dining sets. A wrought-iron dining table is best suited for your outdoor patio. Wrought-iron dining sets are sturdy and have heavy table bases to help keep them grounded through many different types of weather, to keep them from blowing away at every little gust of wind.

Buy Dining Sets
Back to Guides Directory