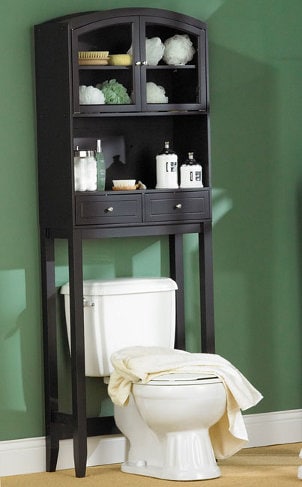 Updating your bathroom cabinets is a great way to make your whole house feel fresh and new. Trends in cabinets are always changing, and it's worth exploring what's popular and what you like before committing to new furniture for your wall. Bathroom cabinets should be useful and attractive without necessarily being the focus of your bathroom decor. Choose cabinets that can mesh with many decors or be ready to commit to years of a single look.
Cabinet Trends:

Wall-mounted cabinets: Wall-mounted bathroom cabinets have always been popular, and because of their practicality, they will always be in style. Wall-mounted cabinets are available in a wide variety of sizes, styles and shapes. Look for wood and faux wood construction for a traditional look or metal for a more modern feel. Many cabinets have adjustable shelving options so you can find the perfect cabinet for your needs.

Free-standing cabinets: Free-standing cabinets are gaining popularity because they offer storage options without requiring you to drill holes in the wall. Free-standing cabinets can also accommodate larger and heavier items and can be switched out and used in other rooms with a minimum of fuss.

Refinished cabinets: If you're ready for a new look but aren't ready to invest in a whole new set of cabinets, consider refinishing the cabinets you already have. You can add paint, molding, even textures to your existing cabinets to give the bathroom a whole new look.

Unique-front cabinets: Cabinets with a glass front can open up a small, dark bathroom. Clear glass can make it feel like the walls go back further than expected, while patterned glass adds a lighter feeling without removing all the mystery from your bathroom cabinets. Mirror-front cabinets expand a room and provide a place for checking your makeup or hair before heading out into the city.

Special feature cabinets: Some newer cabinets offer special features like soft-shut hardware or pull-down shelves. Soft-shut drawers prevent themselves from slamming no matter how hard you shut them, and pull-down shelves make it easier to reach daily necessities.

Cabinets with specialty hardware: The choices in hardware -- knobs, handles and pulls -- are almost limitless. You can choose metal handles that match your faucet and tie your bathroom together. Or look for brightly colored glass knobs to brighten up any room, match your towels or just add some whimsy to your morning routine. You can even find handles made to look like branches or twigs if you favor a nature theme while performing your morning routines.

Buy Bathroom Cabinets
Back to Guides Directory