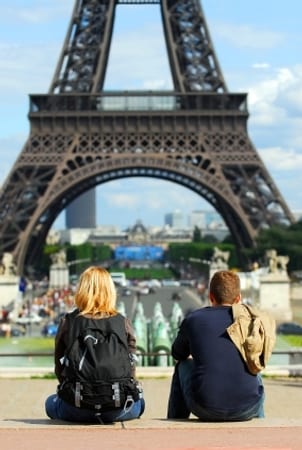 When school backpacks just won't do the job at hand, use a travel backpack instead. These specialized backpacks are designed to help you accomplish specific goals and carry specific items. However, just like there are many different bags to choose from for work or school, there are also multiple types of travel backpacks. Each is constructed with a different task in mind. Keep reading to learn about travel backpack types so you can choose the best backpacks for you.
Types of Travel Backpacks:

Hiking backpack: For the serious outdoorsman or backcountry camper, hiking backpacks are essential components of your backpacking gear. Hiking travel backpacks are large, sometimes carrying up to 95 liters. Some hiking backpacks have external frames and some have frames built into the bag; external frames are strong and sturdy while internal frames weigh less and offer you more mobility. Hiking travel backpacks almost always have sleeping bag straps below the bag as well as bottom and main compartments. Hiking backpacks should always have compression straps to hold your backpacking gear close and tight. The best travel backpack for hiking will also have ventilation systems, well-padded shoulder and hip straps and a special compartment for a hydration bladder. Choosing a waterproof backpack will give you even more peace of mind while you're backpacking.

Day pack: For the casual traveler around town, a day pack is an excellent choice. Similar to but larger than a fanny pack, these bags are designed to hold your necessities while you traipse around the big city. Many daypacks are detachable extras of larger travel backpacks, so you can leave your backpack at the hostel or your luggage at the hotel and use a lightweight day pack to keep your money, identification and water bottle close at hand. Daypacks and fanny packs are also great travel backpack options to use around your hometown.

Urban backpack: If you plan on living out of a travel backpack while you hitchhike around Europe or other exotic locations, you need an urban travel backpack. Urban travel backpacks need to be light, usually between 55 and 75-liter capacity, because you're carrying everything yourself. These bags can be rolling backpacks if you will often be in areas with well-paved roads, although rolling backpacks can take up a lot of your weight and are sometimes difficult to maneuver in crowded buses and trains. It's a good idea to look for a waterproof backpack to protect your belongings. The best travel backpack for this kind of backpacking will have ventilations systems, superior support and padding, a detachable day pack and locking zippers.

Buy Backpacks
Back to Guides Directory