Since its inception in 1942, the modern trampoline has been used in the training of pilots, astronauts, and athletes, plus it has been an endless source of entertainment for children of all ages. Whether you're looking for a good, aerobic workout or desperately trying to get your kids to play outside, a trampoline is a perfectly bouncy solution.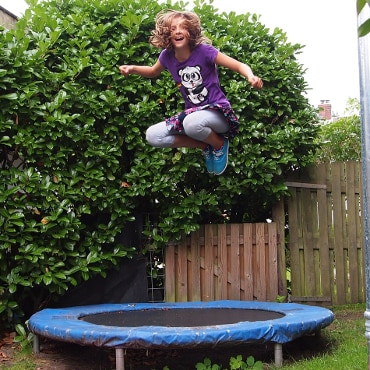 What trampoline size should I choose?
That depends on how you want to use it. For outdoor play, a large trampoline is ideal. These are typically 8 to 15 feet in diameter and a few feet tall. You'll also want to choose between a circular or rectangular frame. A rectangular trampoline makes side-by-side jumping a little easier and has more surface area for learning new tricks.

For indoor exercise, a mini-trampoline does the trick. These much smaller trampolines are about three feet in diameter and 6 to 12 inches high. They won't give you the air time of an outdoor trampoline, but still have enough bounce to get your heart rate up.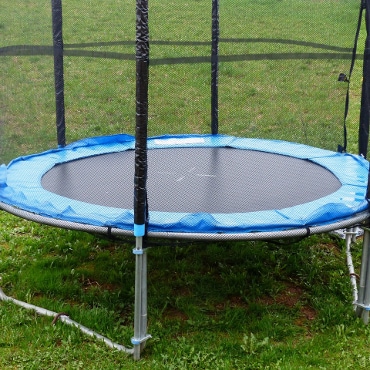 Is it hard to assemble a trampoline?
Not at all! As long as you follow the included assembly instructions, it should be up in less than 30 minutes, although it does go faster with an extra set of hands. One commonly made mistake happens when you start to attach springs. Avoid starting from one point and moving in a clockwise or counter-clockwise direction. Instead, imagine your trampoline mat is a directional compass. Start by attaching springs at north, south, east, and west so the mat is completely suspended before continuing. Then attach more springs at the mid points of the already attached ones. Continue to do this until your trampoline mat is completely and securely attached. This method evenly distributes the tension as you go, requiring less effort and protecting you and your equipment from potential harm.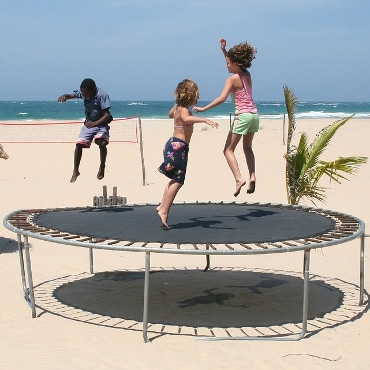 Where's the best place for my trampoline?
Trampoline placement is very important. Your main considerations should be clearance above, around, and beneath the trampoline. Also, make sure it is stabilized on a level surface. If you have to make due with a smaller space, you may want to consider a trampoline enclosure to improve safety.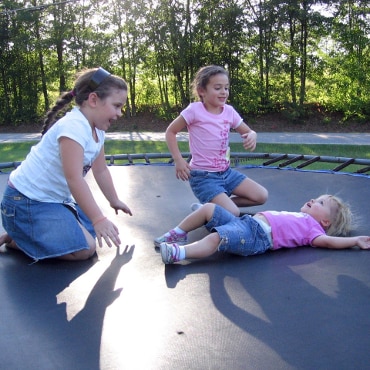 Are trampolines safe?
When done correctly, trampolining can be just as safe as other outdoor activities, but it's still vital to practice proper trampoline safety. If you're buying one for your kids, make sure they understand the risks and have some basic ground rules in place. Some rule possibilities include limiting the number of simultaneous jumpers, supervising kids under a certain age, and not allowing pushing or shoving. These kinds of rules will keep your trampoline a safer place and help prevent possible injuries.
What tricks can be done on a trampoline?
An almost endless variety of tricks can be performed on trampolines. In fact, trampoline use is how many gymnasts and extreme athletes practice their flips and twists before taking them to the floor mat. Jumping on a trampoline is a great way to work on body control while in the air. However, if you're not a professional, a trampoline enclosure is a necessity.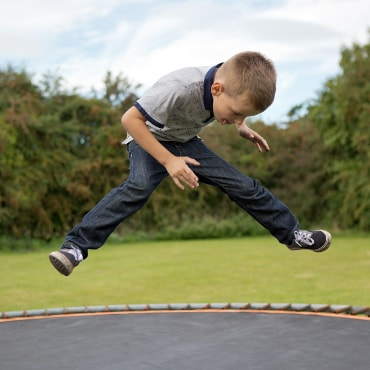 Can I use a trampoline for exercise?
Of course you can! Actually, everyone who bounces on a trampoline is getting exercise, but some take it a step further with fitness-focused workout routines that make use of trampolines. Mini-trampolines, also known as rebounders, are ideal for people looking to get a good aerobic workout while limiting the impact on the body's joints. Using a mini-trampoline is a fun and effective way to start exercising at home.