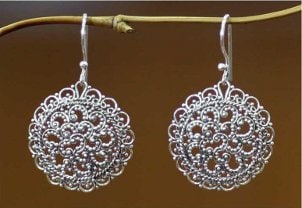 When you need a unique look, try pairing handcrafted jewelry with your little black dress or favorite outfit. Each piece of handmade jewelry is unique; there may only be a few of the same piece, and because they are not mass produced, each will have minor differences. Handcrafted jewelry gives you fantastic accessories, conversation starters and something to cherish. As handmade jewelry has become more popular, trends have started to emerge even among these individualized pieces. Keep reading to learn the top trends in handcrafted jewelry so you can pick the best styles of unique jewelry for you.
Handmade Jewelry Trends:

Filigree: Filigree detailing is hugely popular in handcrafted jewelry, especially in earrings, ring mounts and pendant necklaces. Filigree is made with finer metals, like gold, silver and platinum, and its delicate design often leads to filigree jewelry becoming heirloom pieces. Jewelers roll the malleable metal into thin filaments or wires, and then use those wires to make intricate openwork designs. Filigree can portray distinct shapes or arabesque designs. Choose handmade filigree jewelry to wear when you need to dress up for important meetings, dates or weddings.

Big and bold: Another trend in handmade unique jewelry is the chunky accessory. Beaded jewelry sometimes falls into this trend when the beads are large, stacked or very colorful. Gemstone jewelry can also be big and bold, especially if it uses multiple gemstones in generous sizes. Other kinds of statement-making handcrafted jewelry include thick or dome-shaped rings, leather bracelets and cuffs and layered multi-strand necklaces. This kind of handmade jewelry is perfect for those who favor bold designs or who like to stand out from the crowd.

Layers: Layered jewelry is making a scene in the world of beaded jewelry. Multi-strand necklaces are the most popular kind of layered jewelry, but stacked bracelets and some wrap rings also have distinctive layers. Handmade layered jewelry gives you a sophisticated style without stealing all the attention. Remember to only wear one type of layered jewelry at a time, as too many pieces can be distracting.

Sterling silver and bright colors: As one of the more affordable precious metals, sterling silver is a huge trend in handmade jewelry. A unique piece of handcrafted silver jewelry will last for many years, look good with every outfit and never go out of style. A lot of gemstone jewelry is made with sterling silver, especially earrings, rings and pendants. Handcrafted silver jewelry looks great without beads or gemstones, but many sterling silver pieces use exotic and brightly colored gems to complement the shiny sparkle of the metal. Choose handcrafted sterling silver jewelry as go-to pieces for a variety of occasions and stock up on brightly colored pieces to spice up neutral outfits or boring days.

Buy Handmade Jewelry
Back to Guides Directory