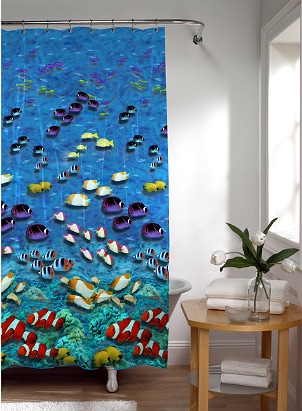 Decorating a child's bathroom gives you the opportunity to mix it up with creative bathroom shower curtains. Appeal to their sense of creativity and color with shower curtains that are playful and bright. Experimenting with design takes on a whole new meaning when you're creating a cohesive bathroom for children, so before taking on the task you may want to learn about all the top bathroom shower curtains for kids.
Best Kids' Shower Curtains:

Explore the world. Take your children on an adventure with realistic photo landscape shower curtains. These vinyl bathroom shower curtains are easy to clean and perfect for younger kids. Your child can swim alongside a school of fish or explore the Great Barrier Reef without ever leaving the house. Make bath time more exciting with shower curtains that make your bathroom feel like a tropical getaway or an island resort.

Brighten up your bathroom. Brightly patterned vinyl shower curtains are perfect for shared bathrooms because they allow you to bring in several colors, creating a fun space that pleases everyone. Decorating a bathroom for children gives you the chance to experiment with patterns and colors you normally wouldn't choose for the rest of the house. Have fun with oversized colored daisies or stick to a gender-neutral polka-dot pattern shower curtain.

Have fun with popular characters. Delight your children by decorating their bathroom with a shower curtain featuring their favorite cartoon character or television show actors. Character shower curtains enable you to infuse a bathroom with your children's favorite things, making bath time more fun for everyone.

Cheer on your team. Show some team spirit with sports-themed shower curtains. Look for a shower curtain with your team's mascot to add personality to your bathroom. Add a few fun bathroom accessories in your team's colors to complete the look and create a fun space for your sports-loving child. Your child won't outgrow sporty shower curtains, so they are appropriate for children of all ages. For a grown-up look that is also appropriate in guest bathrooms, look for fabric shower curtains with a subtle team logo.

Buy Shower Curtains
Back to Guides Directory