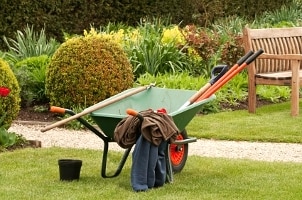 Paying someone to maintain your yard can be expensive. Fortunately, many of the essential yard care tasks are easy and require very few garden tools. A lawn mower, garden hose, shovel, wheelbarrow and some pruners can get you started taking care of your own lawn, cutting the cost of your maintenance and improving the value of your home. And you can take pride in doing the yard care yourself.
The Top 5 Garden Tools:

Lawn mower: If you have any grass in your yard, you will need a lawn mower. Lawn mowers can range from inexpensive push models with rotary blades to large, powerful riding mowers. Choose a mower that fits your budget and the size of your lawn. Lawn grass actually thrives better if it is cut on a regular basis. Cutting the blades of grass fairly long will help prevent weeds from invading your yard.

Garden hose: A garden hose is a must-have tool when you're caring for your yard. It is needed to water both your grass and garden plants. While some climates provide enough rain during the fall and summer for you to forgo watering, some supplemental watering in the summer is needed almost everywhere. In addition, you must water plants and sod heavily when you first place them in the ground, regardless of the weather conditions.

Shovel or spade: Although it is one of the simplest garden tools, it is next to impossible to care for your yard without a shovel. You'll need a shovel to dig holes in order to plant trees and shrubs; to move earth, gravel or mulch; and to smooth out newly landscaped areas. A spade is better than a shovel for digging up boulders, stumps and dead plants.

Wheelbarrow: A wheelbarrow partners with a shovel in many landscaping tasks, from moving debris to a compost pile to toting and spreading landscape gravel. Wheelbarrows are also needed to transport plants and even can be used to transport other yard-care tools from one area of the yard to another.

Pruners: Pruners are necessary for keeping bushes and trees nicely trimmed. Electric- or gas-powered trimmers are ideal for trimming most bushes and hedges. Hand-held pruners work well on roses and other bushes and if you only have a few plants to take care of. Pole trimmers are usually needed for trimming trees.

Buy Yard Care
Back to Guides Directory