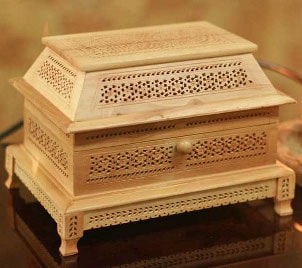 A wooden jewelry box is the perfect place to keep all of your secrets, or at least a few special pieces of jewelry. Wooden jewelry boxes have been gracing the tops of dressers for centuries, and you can join in on the fun with a pretty jewelry box of your own. You have many options when shopping for wooden jewelry boxes, and each wooden box offers a different style and a variety of organizational options. Use these tips to choose the right jewelry box for you.
Wooden Jewelry Box Options:

Slider boxes: If a unique wooden box is what you desire, then consider slider boxes. Slider jewelry boxes have moving parts that reveal or conceal compartments. They may have trick tops that seemingly lock shut but with secret sliding slots. Slider boxes are fun for keeping a small collection of jewelry at hand or storing important papers, letters or other keepsakes.

Compartment boxes: If you need a wooden jewelry box that will store your jewelry in a very organized fashion, then shop for compartment boxes. Wooden boxes with many separate compartments will keep your rings separate from your bracelets and your earrings separate from your pins. Many compartment boxes have fabric-lined drawers to protect valuable pieces.

Armoires: If you have a large jewelry collection, then consider investing in a jewelry armoire. Wooden jewelry armoires are beautiful pieces of furniture that have special spots for every accessory. Entire drawers for rings, special slots for bracelets, hangers for earrings and hooks for necklaces will protect your jewelry by keeping it securely organized. Many wooden jewelry armoires even have hidden compartments for other valuables.

Keepsake boxes: If you want a pretty little box to store just a few small trinkets, then shop for keepsake boxes. Wooden jewelry keepsake boxes are small and intricate. These jewelry boxes can fit inside larger jewelry boxes or adorn a shelf in your bedroom. Store special charms or expensive rings in these wooden boxes for safekeeping.

Novelty boxes: Novelty wooden jewelry boxes offer a lot of whimsical style. Wooden boxes shaped like faces, animals, fruits and other fun items will express your individuality through your home decor. Many novelty boxes are culturally or religiously significant. Buy the wooden jewelry boxes that will surround you with personality.

Buy Jewelry Boxes
Back to Guides Directory