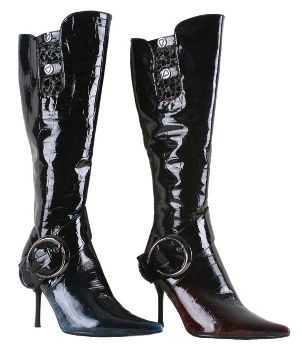 When autumn leaves start to fall, some women are eager to store the sandals and introduce boots back into their wardrobe. Women's boots provide a great way to stay comfortable, warm and fashionable all at the same time. Depending on the outfit, some boots work better than others. To assist you in your boot shopping this year, here is a list of the top five women's boots.
The Top 5 Women's Boots:

Stiletto boots. Sleek and sexy with a tall, skinny heel, stiletto boots are usually made of leather or vinyl. The boots come in all types of varieties, including knee-high and over-the-knee designs. Stiletto boots can dress up casual wear, such as jeans, and can be worn perfectly with dresses and skirts. They allow you to show off your feminine side even in colder weather. Black boots are most popular, but brown boots also work well with sweaters and skinny jeans.

Sheepskin boots. Known for their comfort, sheepskin boots are perfect for winter but have also become very popular during the warmer seasons as well. These cozy boots are usually lined with internal padding for added comfort and have lightweight soles. You can find sheepskin boots in all lengths and sizes. While traditionally sheepskin boots are tan or khaki, the boots also come in fashion colors, such as pink and light blue. Sheepskin knit-boots are another style, made from a fabric similar to that used to make thick socks. Look for waterproof boots in sheepskin to keep rain and snow from penetrating your boots or use a waterproofing solution to protect them.

Ankle boots. Whether paired with skirts or pants, ankle boots can be a fun alternative to taller boots. During the colder months when long skirts are worn most often, a cute ankle boot is almost a necessity. Ankle boots look fabulous when worn with tights. Many ankle boots are also dressed up with buckles and laces.

Motorcycle boots. For an edgier look, consider women's motorcycle boots. These boots are popular for their added embellishments and hardware, especially distressed studs and grommets. The boots have flat or chunky heels and look great with jeans. Motorcycle boots provide an easy way to add attitude to any outfit.

Western boots. Western boots are not just for cowboys anymore. These boots are available in slouchy designs or with traditional chunky heels and scalloped edges, and they often have oversized grommets, straps and studs. Women's suede boots add texture and spunk, while leather lends a genuine look. You can pair western boots with jeans, of course, but they also look great with a skirts.

Buy Women's Boots
Back to Guides Directory