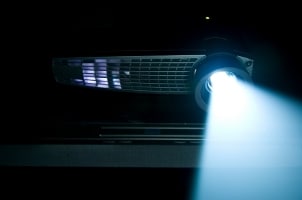 There are quite a few settings in which a projector can fulfill your entertainment or communication requirements. Multimedia projectors interface well with computers, home theater systems and audiovisual setups in nearly any configuration. Here are a few of the best ways that you can put projectors to work.
Ways to Use Projectors:

Mobile presenter: For the salesperson, consultant, after-dinner speaker or others who rarely present in the same place twice, the prime projector consideration is portability. A variety of connections, such as A/V cables or wireless connectivity, will help you connect your laptop for presentations. A projector with variable brightness and projection angle correction will give you the ability to present anywhere.

Business: Managers and executives in the conference room or boardroom will likely be more satisfied with ceiling-mounted or wall-mounted projectors. Size isn't an issue, but you may want the projector itself out of the way. A quiet fan and good speaker connections will help keep the focus on your meeting and not the noise. A ceiling projector with a brightness of 2,000 to 5,000 lumens will make images visible in even a well-lit room.

Non-profit: Every year, more schools, churches, libraries and other community groups are using interactive, technology-based programs. Not-for-profit operations usually need to stretch every dollar, so lower resolution SVGA or XGA projectors are good choices for cost-conscious shoppers. In fact, basic home theater projectors are good enough for many uses. Mounting or portability will depend on the situation. If your group has a single media room, you'll probably be able to have a stationary video projector.

Home theater: A home theater projector has the single aim of theater-quality picture. WXGA or SXGA resolution is a good minimum to start from. Finding a projector able to project large images in detail onto your choice of screen is the goal. Good features for home theater projectors include HDMI, or other high-definition inputs, and a resolution capable of displaying HD quality video.

Karaoke and parties: A big display from a projector is perfect for karaoke bars or dance parties. The versatility of your projector is only limited by your other video equipment. Display visualizations, music videos and even camera feeds. Resolution and brightness for party video projectors can be pretty low, since people are interested in having fun rather than the video quality.

Buy Projectors
Back to Guides Directory