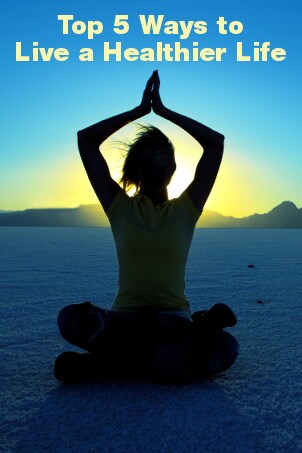 According to the American Cancer Society, about half of cancer deaths could be prevented if people took a few steps to maintain a healthy lifestyle. If you're not feeling your best and you're ready to take steps to turn things around, try incorporating some of these tips into your life. Small lifestyle changes can make a big difference in your overall health.
Healthy Lifestyle Tips:

Get regular health checks. It's not always easy to remember to schedule annual check-ups, but regular screenings are one of the most powerful tools you have when it comes to taking charge of your health. Commit to seeing your doctor for a physical exam once a year. Choose a date that's easy to remember -- like your birthday, the first day of spring, or a memorable anniversary -- and make that the day you always get a mammogram or colonoscopy.

Clean up your diet. Small changes to your meals can add up, so don't feel like you have to throw out everything in the cupboards and start over. It's not about losing weight; it's about making tweaks to the way you choose what to eat.

Easy Ways to Eat More Healthfully:

Reducing the amount of red meat that you eat is one place to start; start planning "Meatless Mondays" to help your whole family cut back.

Replace one or two bread items that you regularly eat with their whole-grain counterparts.

If you're ready for a bigger challenge, try shopping for vegetables you've never eaten before and learn how to cook them. You may find a few new favorites.

Studies have shown that the healthiest people choose local food whenever possible; shop your local farmer's market for fruits, vegetables, cheeses, honey, and more from your own region.

If soda is your weakness, try replacing at least one can a day with water. Your body is thirsty, and it has no use for all the sugar and chemicals in soda.

Exercise regularly. Simply going for a 30-minute walk after dinner can help you feel better, but if you're ready to make a real difference in your personal fitness, try to do 60 minutes of cardio exercise at least five days a week as well as strength training two or three times a week. Home gym machines are a great way to get a workout at home, and you can do it while watching your favorite TV shows or keeping an eye on your kids. Breaking up the 60 minutes over the day still counts as a full workout.

Avoid tobacco. Quitting smoking or chewing tobacco may be one of the hardest things to do for your health, but it's one that could make the most difference. Quitting "cold turkey" rarely works, so be sure to get support. Call 1-800-QUIT-NOW to find a local resource.

Protect your skin. Your skin is your largest organ, and it's one that's always exposed to the elements. Sunscreen isn't just for summertime. It's important to wear it every day on your face, so look for makeup or moisturizers that include it. Wear plenty of sunscreen with at least SPF 30, a hat, and sunglasses any time you're outside for more than 10 minutes, whether you're gardening in your backyard or watching a baseball game. Be sure to help children remember to wear sunscreen, too, as sunburns during childhood can double the risk of melanoma later in life.
What Do You Want to Do Next?

Shop Home Gym Machines
Shop Core & Training Equipment
Shop All Sports & Fitness
See All Guides
Read More Health & Beauty Guides
Learn More about Personal Wellness