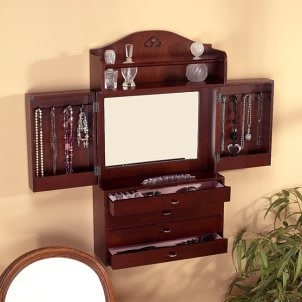 Placing a brand-new armoire in your home is an elegant way to make the most of your space. For hundreds of years, the armoire has steadily grown in popularity for its French style, solid construction and flexible designs. Whether you are looking for a jewelry armoire, computer armoire or some bedroom armoires, there is no shortage of designs and styles to fit the function and match the decor in every room of your home. No matter the design of armoire you choose, there are a few great ways to make sure it looks at home in your bedroom. Here are some ideas to decorate your armoire and make it a fixture in your home.
Top 5 Armoire Decorations:

Spruce up your armoire with a potted plant. Armoires typically have a wooden construction that looks great with a leafy green plant to accent the wood. Whether you have an armoire with open shelves or just some space on the top surface, a plant will bring life and color to any room where you've placed your armoire.

Leather bound books bring an element of sophistication. Placing a few leather bound books separated by a decorative bookend adds a level of cultivation to your armoire. This works especially well for a computer armoire or TV armoires that are out in the open for others to see.

Add a personal touch with family photos. Pictures of your family will make your armoire a point of interest for guests as well as enrich the sentimental value of the armoire. Black and white or sepia-tone photographs of loved ones are especially striking displayed with armoire furniture.

Light up your armoire with vintage candle holders. Thanks to the traditional French design of most armoires, they benefit greatly from vintage decorations. Whether you choose to place candlesticks in the holders or not, the vintage look will make your furniture armoire look right at home.

Get creative with original art work. Make your armoire a focal point of admiration by decorating it with original artwork. To make it even more compelling, decorate your armoire with art work from local artists or that you have produced yourself.

Buy Armoires
Back to Guides Directory