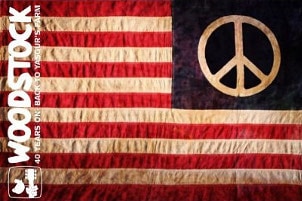 Do you remember Woodstock? No? Maybe the details are a bit hazy, or maybe you weren't around to make memories, but this iconic event deserves to be celebrated, even more than forty years after the last barefoot hippy wandered home. This music festival, one of the most important events in rock 'n' roll history, brought 32 acts and over 400,000 spectators to Max Yasgur's dairy farm in Upstate New York August 15 to 17, 1969. Detractors worried that the counter-culture performances would encourage violence and vandalism, but there was little of either. Instead, the crowd embraced a peaceful co-existence and a love of the music that defined an era.
Remembering Woodstock:

Relive the music. Ranging from folk to hard rock, the performances at Woodstock showcased some of the most iconic names of '60s youth culture, including Jimi Hendrix, Janis Joplin, and the Grateful Dead. Joan Baez, Arlo Guthrie, Santana, Creedence Clearwater Revival, Sly & the Family Stone, The Who, Jefferson Airplane, and Crosby, Stills, Nash & Young also played. This variety offers music to suit just about everyone, whether they have loved it for decades or are just discovering it. If this music is new to you, introduce yourself to it with Woodstock, the original soundtrack, or Jimi Hendrix: Live at Woodstock.

Unleash your inner hippy. Woodstock fashion -- and the hippy look in general -- was an anti-fashion statement. The counter-culture movement of the late '60s rejected stuffy formal attire in favor of comfortable clothing and self-expression. Colorful tie-dyed clothing reflected the bold patterns of the psychedelic movement in art. You can make your own designs with some T-shirts and tie-dye kits. Your hippy duds might also include bell-bottom jeans, long dresses, peasant blouses, head bands, head scarves, and lots of beads. Handmade clothing with an international vibe is also an authentic option.

Make a peaceful statement. Festival organizers called Woodstock "three days of peace and music." Declare unity with this ideal with the internationally recognized symbol of peace, which happens to be popular again in fashion accessories. You'll find it on T-shirts, handbags, and jewelry, especially in charms for bracelets and necklaces.

Attend a music festival. While you can't really return to Woodstock, you can capture the spirit by attending one of the many music festivals that take place across the country every year. From California's Coachella festival in April to Texas' Austin City Limits festival in October, these celebrations of art and community appeal to every taste in music. Before you go, read Mandy's blog post, I Want to Bonnaroo, to get some great ideas for festival fashion.

Host a Woodstock party. Now that you have the music, the clothes, and the attitude, it's time organize your own mini music festival. This can be as simple as setting up a sound system and playing songs as background music or as elaborate as having a karaoke party or hiring bands to play. Pick an outdoor location, encourage your friends to dress the part, and make sure your venue is safe for sandals and "hippy" bare feet. To have a truly retro Woodstock party, hunt down some vinyl records and play them on a turntable.

Buy Rock Music
Back to Guides Directory