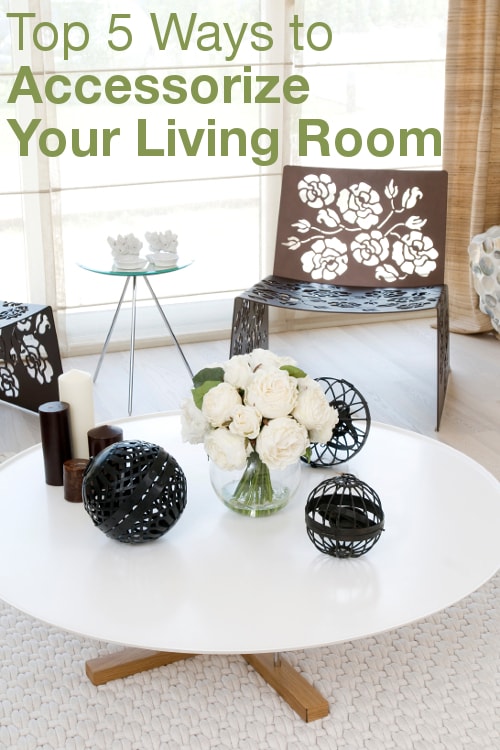 SHOP LIVING ROOM NOW >>
A living room doesn't need much in it to be functional, but if you ignore the decor, the room may feel uninviting. And while that may have been the point when living rooms were saved for company and no children were allowed, they're one of the most-used rooms in today's homes. With these five tips, you can make your living room feel welcoming while you express your style.
Accessorize Your Living Room:

Inject the room with color. This doesn't mean you have to decorate with a whole rainbow of hues -- unless that's what speaks to you. You can choose how much color to bring into the room. A vibrant piece of art, a multicolor area rug, or a grouping of vases are all simple, affordable solutions to a monotonous color scheme. A colorfully upholstered sofa sets the stage for a playful room, while a brightly colored throw pillow can have an impact all its own when it's placed on a neutral sofa.

Mix up the textures. Whether you embrace all the colors or you stick to a neutral palette, you'll want to bring in some necessary roughness. Velvet or silk window treatments add texture and softness to the living room. Handmade wall decor brings a little soul to the texture, while a woven rug adds texture your soles can feel; you can learn more about treating your toes to texture in our guide to rugs that make your feet feel good.

Cover your walls. Blank walls are boring. A large piece of art can make a big statement, while a group of small framed prints can look eclectic and cool. If you want the room to feel contemporary, try photography or prints of modern artists' works. For a more vintage feeling, try prints of classic artwork or mirrors with elegant frames. Remember that art can effect the mood of a room. If you want a place to relax, look for peaceful landscapes to hang on your walls. If your living room is a place for parties, choose artwork that features action or lively colors.

Light it well. If you're relying on the overhead lighting that's built into the room, you'll want to follow this tip first. Hang a ceiling fixture over the coffee table, add table lamps to end tables, and place floor lamps next to living room chairs. You can even add small, decorative lamps to bookshelves. The different lights will add warmth to the whole room while making each spot more functional.

Accessorize your surfaces. You don't have to cram a tchotchke into every open corner for your living room to feel decorated, but you have the opportunity to express yourself with lovely little things thoughtfully placed on your coffee table, mantel, or bookshelves. The accent pieces you choose can go a long way toward saying who you are and what your design style is.

Shop Living Room Furniture
Shop Home Decor
Shop All Living Room
See All Guides
Read More Home Guides
Learn More about Home Decor
Published April 29, 2010
Updated February 10, 2015