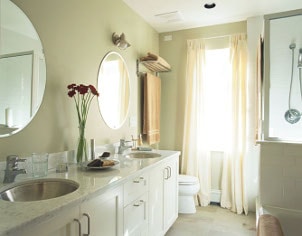 One good way to design your bathroom is to use the bathroom vanity as the centerpiece of the entire room. As the focal point, this makes the choice of the bathroom vanity sink style and materials one that can determine the theme for your entire bath. To help you decide on a bathroom sink, consider the top five types of vanity sinks below as a starting point for designing your entire bathroom.
Best Vanity Sinks:

Undermount sinks: An undermount sink is more understated than other types of vanity sinks because it allows the countertop of the bath vanity to run right up to the sides of the sink. The sink material, whether porcelain, glass, copper or otherwise, will become an accent to the countertop color and texture.

Vessel sinks: Vessel sinks may arguably stand out more than any other vanity sinks. A vessel sink sits on top of, or recessed into, the top of the bathroom vanity. With materials ranging from colored glass to beaten copper and even stone, the vanity sink is a piece of art that draws the eye and sets the tone for the rest of your bath fixtures.

Double sinks: Having dual, matching vanity sinks gives a bit more room for two people to use the mirror and sinks as well as creating a kind of symmetry in your bathroom. The goal here is to choose two vanity sinks that look like a mated pair, rather than two individual sinks.

Drop-in sinks: These are the vanity sinks you may be the most familiar with. Drop-in sinks are standard in new home construction because of the ease of installation. If you're replacing an existing vanity sink, you may be able to use the same countertop if the shape of the old and new sinks is similar. Simply adjust the existing sink hole with a jigsaw and slip the new sink into place.

Pedestal sinks: These elegant fixtures can really open up a room. A vanity sink on a pedestal is ideal for smaller bathrooms or half-baths that are short on square footage. Since there is no storage beneath the sink, the floor space seems more open.

Buy Bathroom Sinks
Back to Guides Directory