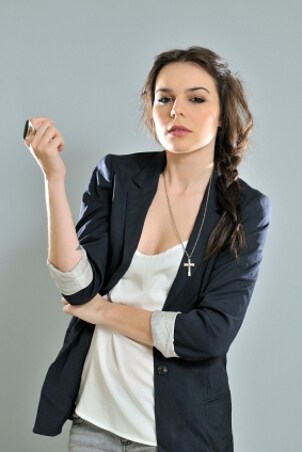 Religious jewelry is great for expressing your beliefs, but sometimes cross jewelry feels generic and old-fashioned. If you want to wear your Christianity and maintain your personal flair at the same time, then consider wearing cross pendants in unconventional ways. A unique religious necklace or an accessory that incorporates a cross pendant allows you to be creative while expressing your faith. Use our tips to create unique religious jewelry and cross necklaces for your collection.
Wearing a Cross Pendant:

Create charms: Movement and whimsy quickly modernize cross jewelry. You can add a small religious pendant to a charm bracelet or charm necklace with other meaningful charms for a fun and pretty piece of charm jewelry. Religious pendants can also be attached to handbags, hooded sweatshirts, shoelaces and hair accessories. Make your own personalized religious jewelry with cross charms and pendants.

Try layers: Layered jewelry is a very fun current fashion trend. A layer of necklaces makes a basic outfit contemporary and exciting. You can easily layer cross necklaces to create the textured look for yourself. Hang several cross pendants on one chain with a heart charm and wear the jewelry with a nice, modern dress on Sunday. Several religious necklaces of varying lengths will also give you a layered look.

Test length: If you have a favorite cross pendant and you want to make it the focal point of your outfit, consider experimenting with different chain lengths. A short choker-length chain will place a pretty pendant right near your face while an extra-long chain will elongate your body and add movement to the jewelry.

Ditch the chain: To quickly change the look of a piece of cross jewelry, consider wearing a religious pendant on a leather cord, a hemp necklace or a colorful ribbon. These chain alternatives add texture to your look and also allow you to personalize your religious jewelry. You might try pinning a cross brooch onto a piece of velvet or braiding your own hemp necklace with charms and pendants spread throughout the jewelry.

Consider unique pendants: Sometimes the best way to have a unique necklace is to choose an unconventional pendant. Religious pendants made of wood, leather and stone are beautiful and unusual. Dog tags featuring cross engravings are also interesting. Choose a cross pendant that speaks to you and you'll want to wear it regularly.

Buy Religious Necklaces
Back to Guides Directory