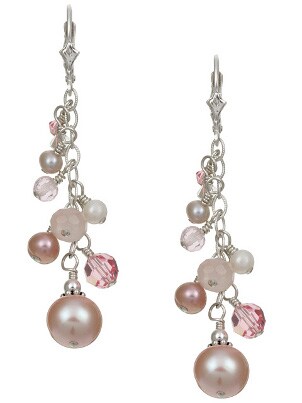 You have a classic set of pearl studs, but you feel like branching out and adding more unique pearl earrings to your jewelry collection. Pearls don't have to be boring; modern pearl jewelry sports unique and interesting options for every wardrobe. Pearls come in many colors and sizes, making them the perfect gem for creative artisans. Many pieces of pearl jewelry are completely original. Put a few pairs of these unique pearl earrings on your wish list when shopping for fine jewelry and designer jewelry.
Unique Pearl Earrings:

Clusters: Dangling clusters of pearls look fabulous on an earring. These earrings can be found in fine jewelry, designer jewelry and fashion jewelry categories and will add a bohemian influence to an outfit. Dangling earrings dance with every movement of your head, and the dancing pearls will frame your pretty face perfectly.

Floral designs: Round and oval-shaped pearls lend themselves to nature-inspired designs. Floral pearl earrings are available in all shapes and sizes. Some floral pearl earrings sit on your earlobe as earring studs, while other styles hang below the ear like elegant chandelier earrings.

Hoops: If you love silver and gold hoop earrings, you will adore hoops decorated with pretty gems. Pearl hoops may have a ring of pearls around the entire earring, or they may sport just one pretty pearl. Choose the pearl hoops that will enhance your best suits or favorite vintage dresses.

Sea-inspired: It's no surprise that pearls remind us of mermaids and sea tales. Most pearls in modern jewelry are from pearl farms, but they are still grown in mollusks. These pretty gems look lovely in ocean-inspired earrings. Sea-inspired pearl earrings are versatile and romantic. Look for pearl earrings that include intricate shell, fish and mermaid designs. These earrings will brighten up a cold winter day.

Vintage: Pearl earrings have been popular for decades. Antique pearl jewelry is truly unique; many pairs of estate pearl earrings are one-of-a-kind. Look for vintage pearl earrings that incorporate brightly colored gemstones. Rubies, diamonds, amethysts, coral, topaz and turquoise look lovely with pearls in elaborate pairs of earrings.

Buy Pearl Earrings
Back to Guides Directory