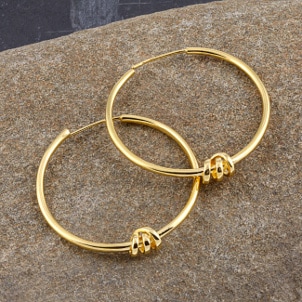 Gold hoops are a staple in the jewelry world. Basic gold hoop earrings can go from the office to the club effortlessly. If you're tired of the same basic hoop earrings, consider updating your wardrobe with some unique gold hoops. Today, gold hoop earrings can be had in a variety of shapes and designs. You can spice up a very simple outfit or add edge to something formal with unconventional gold hoops. Start shopping for modern hoop earrings and gorgeous gold jewelry with these top five hoop earring styles.
Unique Gold Hoop Earrings:

Get it twisted: Twisted hoop earrings are a wild take on basic gold earrings. These hoop earrings incorporate twisting bands to add dimension and texture to the jewelry. Twisted gold hoops often showcase two or three types of gold. Choose from twisted gold earrings with yellow gold, white gold and rose gold accents.

Fall in love: Heart-shaped jewelry is always stylish, and gold jewelry with a heart motif is romantic and perfect for any special occasion. Hoop earrings shaped like hearts offer a fun change of pace from standard circular or oval hoops. Some hoop earrings may incorporate dangling hearts and other fun charms.

Study geometry: Circular hoops are fun for some events, but geometric hoops can be much more exciting. Gold hoop earrings shaped like squares, triangles, stars and rectangles quickly transform a very basic ensemble and give your outfit a rocker edge. Geometric styles are available in yellow gold hoops, white gold hoops and gold hoops with diamonds and gemstones.

Get hugged: Huggie earrings are becoming more and more popular for their minimalistic style. Huggie hoop earrings are small, and they "hug" the earlobe. Most huggie earrings are wide, and gold hoop huggie earrings add plenty of shine and sparkle to your look without overpowering your outfit or other jewelry selections.

Go big: Big gold hoops have their roots in urban style, but large hoop earrings can be worn with almost anything. Try an extra-large pair of gold hoops the next time you are getting dressed for a night on the town. Gold lends itself to formal outfits and events; wear giant gold hoops with your best black dress the next time you need to get dressed up.

Buy Gold Hoop Earrings
Back to Guides Directory