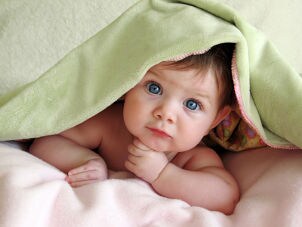 Unique baby gifts are fun and can create lasting memories. When shopping for gifts for a baby girl, look beyond the usual to find unique choices for every taste and budget. Thinking outside the box will help you choose a baby gift that will be treasured. Use these baby gift ideas to choose something thoughtful and original for the new arrival.
5 Gifts for a Baby Girl:

Birthstone jewelry: A bracelet or pendant featuring a birthstone makes a beautiful gift for a baby girl. Most women and girls love jewelry and a birthstone makes a jewelry gift special. Birthstone jewelry is a great baby girl gift for a child of any age and for any occasion. Even if she cannot wear the birthstone jewelry right away, it will quickly become a keepsake.

Personalized bedding: Baby bedding is a popular gift for new babies, and you can make it unique with personalization. Handmade quilts always make great baby girl gifts, but you can give a personalized blanket even if you don't have the time or skill to make one from scratch. Consider purchasing a nice quilt or blanket and having the baby's name or initials embroidered in the corner.

Books: Baby books make wonderful gifts for children of all ages. Picture books, board books and books with pop-ups are all great choices. Classic baby book sets that you enjoyed as a child are also fun to give and will teach the little one to appreciate reading from a young age.

Extravagant dresses: Frilly, lacy dresses are always fun for a baby girl. Extravagant dresses for infants and toddlers can spark a little girl's imagination. Fairy-like tutus and princess gowns covered in ruffles are fun and unique options for baby girl gifts.

Baby scrapbook photo journal: Recording and preserving memories in a baby photo journal is a wonderful way to bond with children. New parents can use a baby photo journal to express their love for their daughter, add photos and notes, record milestones and firsts, and preserve keepsake items. Initially a gift for the parents of a baby girl, a memory book turns into a personalized and unique gift for their daughter when she's older.

Buy Baby Gifts
Back to Guides Directory