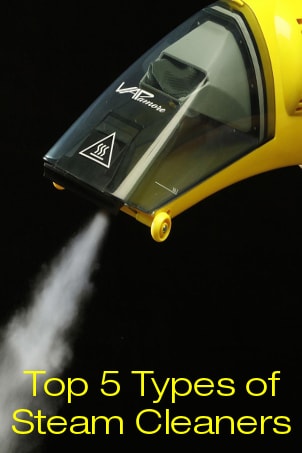 When you want a deep clean, steam cleaners are the perfect way to get it. Instead of using chemicals, they use hot steam to clean and sanitize all kinds of surfaces. When you're shopping, look for the type of steam cleaner that's right for the surfaces you need to clean.
5 Steam Cleaner Types:

Upright steam cleaners: Upright steam cleaners resemble upright vacuums. These can often be used on hard floors as well as carpet. These cleaners usually have suction to vacuum dry debris and to suction up the moisture that it used for cleaning.

Wet/dry hand vacuums: If you like the idea of being able to vacuum dry debris as well as clean with steam, but you don't want a large upright cleaner, look for a wet/dry hand vacuum. These are excellent for stairs and car interiors.

Handheld surface cleaners: A handheld surface cleaner is for cleaning hard surfaces like bathtubs, ovens, and countertops. The most common model resembles a tea pot, with a button on the thumb to release a stream of hot steam that breaks up dirt without scrubbing and without chemicals. These sometimes come with an attachment that lets you clean upholstery, too.

Hard-floor steam cleaners: Floor steam cleaners are designed to clean tile or hardwood floors. Also called steam mops, they function like a standard mop except they release steam to make them quite a bit more effective. Unlike canister steam cleaners, a steam mop won't have a suction feature to suck up and store dirt. Instead, they have a padded head that is usually machine washable.

Fabric steamers: For refreshing and removing wrinkles from fabric, steam is the perfect solution. Garment steamers are excellent for use on all of those things you need to dry clean but don't want to take to the cleaners too often, like suits, sofas, and draperies. Fabric steamers are usually either small handheld units or they have larger base with a hose that connects to a handheld attachment that you wave over the fabric to freshen and smooth it.
What Do You Want to Do Next?

Shop Steam Cleaners
Shop Carpet Cleaners
Shop All Vacuums & Floor Care
See All Guides
Read More Home Guides
Learn More about Housewares