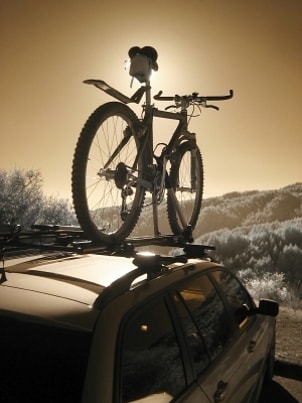 When going on a family trip, or any trip, space in the vehicle is at a premium. Roof racks are one of those auto accessories that can play a huge part in the pleasure of a trip. By essentially expanding the size of your vehicle, car roof racks let you take more stuff and more people wherever you go, which translates into more fun.
The Top 5 Roof Racks:

Ski and snowboard racks: Most snowboard and ski racks will hold both types of items at the same time, if there is room. Skis and snowboards can fit inside most SUVs, but they often require you to fold down a seat, reducing passenger space. Rooftop ski and snowboard racks also give you the advantage of holding your winter sports gear securely. When your skis and snowboards are held in place, their bases won't get scratched from shifting around on the way to the resort. Stowing your gear in a roof rack will also keep snow from melting and dripping on the interior of your vehicle.

Bike racks: Rooftop bike racks free up a lot of space in your truck or SUV; but more important, they help keep your bike in good working order. Laying your bike down in the bed of your truck leaves your bicycle open to bent rims and derailleurs that get knocked out of alignment, especially if you're hauling two bikes.

Kayak racks: When hauling a kayak, unless you have a trailer, you have to put it on the roof of your car. And while ratchet straps are an option, they aren't the most secure option and can lead to the top of your vehicle getting scratched up, or worse, your boat coming free and falling into traffic. Car roof racks specifically designed for kayaks are shaped to hold the boat secure, and some designs with rollers even make loading your kayak easy.

Enclosed roof boxes: Enclosed roof boxes offer a hard shell for secure storage. Roof boxes can hold almost anything, from skis and snowboards to camp chairs, kayak paddles and more. Enclosed roof boxes are advantageous for protecting your gear from the elements while freeing up passenger space.

Open cargo racks: Open cargo racks and baskets provide a secure means of transport for large, awkward items. The sidewalls of rooftop baskets keep your items from sliding around, and you can usually strap a net over the top to hold them in place during travel. Rooftop cargo baskets can hold items like grills, tents, coolers and other outdoor equipment.

Buy Auto Accessories
Back to Guides Directory