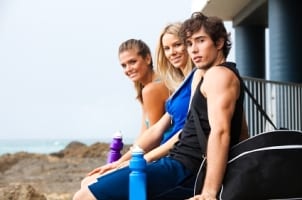 Nothing beats the large, cylinder shape and heavy material of a duffel bag when you need to carry personal belongings. Duffel bags come in an array of sizes and colors with a variety of additional features. There are so many types of duffel bags that they are as different as their owners. However, here are the top five types of duffel bags.
Types of Duffel Bags:

Rolling duffel bags: Adding wheels to duffel bags may be the best invention since the motor vehicle. Because duffels come in a variety of sizes, wheels add convenience whether you're traveling, going to the gym, going to school or heading to the ball field. Because rolling duffel bags have two wheels and a telescoping handle, they are also sometimes called upright duffels. However, they offer handles on the top and sides for versatility in carrying. Also, like most duffel bags, they have many outside pockets to allow for organization and easy access to items. Upright or rolling duffel bags often offer added support bars to provide shape, add durability and protect contents.

Lightweight duffel bags: Many duffel bags are constructed of lightweight fabrics, which make them ideal bags for traveling. Lightweight duffel bags are also used by many as gym bags or to carry sports equipment. When you are carrying heavy equipment, the last thing you need is to add unnecessary weight to your load with heavy duffels.

Expandable duffel bags: Some duffel bags have the ability to expand. This means you can use an expandable duffel one day to carry a change of clothes to the gym and then expand it the next day to handle a weekend trip out of town. These bags are also the perfect vacation luggage, as they can expand to carry all of your newly purchased souvenirs and mementos.

Carry-on duffel bags: With airlines creating more stringent luggage guidelines and charging for each checked bag, more and more people are choosing to pack lighter so they can carry on their luggage. Duffel bags make perfect carry-on options because they're spacious, offer many pockets and come in sizes that meet carry-on restrictions.

Leather duffel bags: Leather duffel bags are a classic baggage option because they look professional and elegant. Leather duffel bags are popular for more than their good looks, however. Because leather is a naturally strong material, it can withstand harsh environments and rigorous use without ripping like man-made materials.

Buy Duffel Bags
Back to Guides Directory