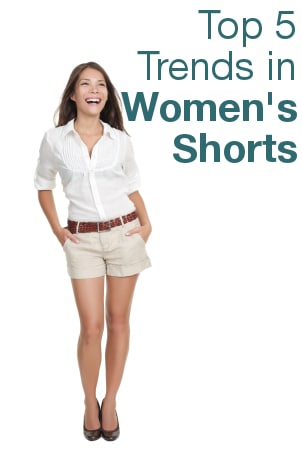 SHOP WOMEN'S SHORTS NOW >>
When the weather heats up, shorts become one of the most popular fashion choices. Finding the right pair of shorts, however, isn't always an easy task. Trends change from one season to the next, and not every pair of shorts works for every body type. Learn how to find flattering shorts for your body type and take a look at these popular trends to find a pair that work for you.
Women's Shorts Trends:

Cuffed: This casual classic has been gaining more and more sway in the trend scene lately, with cuffed shorts appearing in every length, from Bermuda to short shorts, and in every material, from denim to twill and linen. The most popular look in cuffed shorts, however, is a mid-length pair that shows off your legs without showing too much skin. Get a cuffed pair for yourself and wear them with an airy summer button-down shirt and gladiator sandals for a look that is equal parts ultra-trendy and casually comfortable.

Bermuda: Short shorts have always been the fastest way to get bombshell style in the heat of the summer, but knee-length Bermuda shorts are quickly becoming just as chic and subtly sexy in their own right. Look for a pair in dark denim to wear with a red floral print blouse or pair some khaki Bermudas with a lightweight tank and aviator sunglasses. When you're wearing longer shorts, it makes it easier to wear less on top without showing too much skin. Try pairing your Bermudas with a sexy halter or tube top.

Pleated trouser: Classic office wear is getting a casual-chic makeover everywhere in fashion, and trouser shorts are at the center of the trend scene. The most popular styles are made of khaki twill and feature pleated fronts to mimic a classic trouser. This style is dressier than typical 5-pocket denim shorts and more comfortable, too. Play with the office look and try trouser shorts in traditional fabrics and patterns, like linen, pinstripe, and even tweed.

Rompers: For those who want something edgy and fresh, or simply want to avoid having to put together a shirt and shorts combination, rompers are the trend to wear. These one-piece shorts outfits are popular to wear alone or layered with cardigans, belts, and even leggings, and the ease of a one-piece perfectly reflects the effortless, carefree attitude of both current fashion and summer style. Try a romper with sandals and sunglasses for the day, and then add a denim jacket and lightweight scarf to transition into the evening.

High waist: This retro look is making a comeback in the fashion scene and is a flattering look for nearly every body type. To get the right high-waist look, look for shorts that are mid-length or shorter to balance out the higher waistline and that are fitted through the hip and waist. High-waist shorts look extra good with an airy blouse tucked in and wide belts overtop to accentuate the cinched-waist look. Pair them with tall wedges to elongate your legs and highlight the retro look.

Shop Women's Shorts
Shop Capris
Shop All Women's Clothing
See All Guides
Read More Clothing & Shoe Guides
Learn More about Women's Clothing
Published November 21, 2011
Updated December 23, 2014