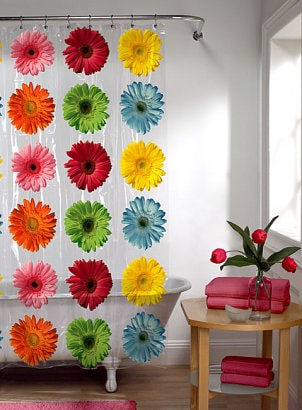 Changing your shower curtain is the easiest way to update your bathroom with the current trends. A shower curtain can be a canvas, allowing you to express your unique personal style. Keep reading to discover the top 5 trends in shower curtains and you'll be able to transform your bathroom into a tasteful retreat.
Top Shower Curtain Trends:

Nature themed: To create a serene space, nature-themed shower curtains are the way to go. Modern shower curtains are able bring in elements of the outdoors while still matching the decor of your home. Designs that feature tree branches and bird silhouettes will look right at home perched upon a stainless steel shower curtain rod.

Pocket picture holders: For a completely customizable option, pick up a vinyl shower curtain with waterproof pockets that are just waiting for your creative touch. For a kids' bathroom, slip in family photos or pictures of their favorite cartoon characters. If you want a more adult feel, print out coordinating black and white photos that subtly add personality to your bathroom. The best part of these unique shower curtains is that you can change the look of your bathroom as often as you want by simply switching out the photos.

Vocabulary boosters: Whether planning a trip abroad or trying to brush up on your linguistic knowledge, these ingenious shower curtains let you study while you shower. These shower curtains feature words from various languages and accompanying English definitions; learning key phrases in a new language has never been easier.

Sparkling accents: Add a little bit of shimmer to your bathroom and turn an ordinary room into a luxurious getaway with sparkling shower curtains. Whether you choose a playful vinyl shower curtain accented with glittering sequins or a grown-up fabric shower curtain with a metallic sheen, these shower curtains help infuse a little bit of glamour into your bathroom accessories.

Patchwork curtains: To achieve a rustic look, check out faux patchwork shower curtains. This bathroom accessory has the ability to turn any bathtub into a cozy space perfect for relaxing. With styles ranging from modern and jewel-toned to cozy applique, patchwork shower curtains will add warmth to your bathroom.

Buy Shower Curtains
Back to Guides Directory