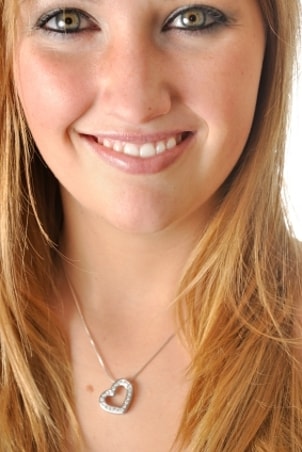 Whether you have received a diamond heart pendant as a romantic gift or you are considering buying a diamond heart pendant for yourself, you may be wondering how to wear diamond heart pendants with your trendy wardrobe. Heart pendants may be traditional, but they don't have to be boring. Your style can easily shine through when you know how to pair diamond heart jewelry with the clothing and jewelry that you already own. Consider these options when looking for new ways to wear diamond heart jewelry.
Trendy Diamond Heart Pendants:

Layered: Layering necklaces is a major trend at the moment. You can layer several pendants on one chain or layer several separate necklaces, each sporting one heart pendant. The trendiest way to layer necklaces is to choose several short chains that are slightly different lengths. Place one or two diamond pendants on each chain. This jewelry look is great for casual ensembles, but it works with formal outfits, too.

Long: Long necklaces are very fashionable. If you have one large diamond pendant or several small pieces of heart jewelry, you can wear them on a long chain. A larger pendant anchors a long chain, and a long necklace offers plenty of space for several pendants. Incorporate this fun necklace style into your look with diamond heart jewelry.

Two-tone: If you have a diamond heart pendant that incorporates both white gold and yellow gold, then you might find it difficult to wear this diamond jewelry with other pieces. Two-tone heart jewelry can be fashionably worn with both silver and gold jewelry. The trick is to balance your look with one or two jewelry pieces of each metal color. Two-tone jewelry is fashionable because it breaks the old jewelry rules.

Dress it down: Diamond jewelry is so often associated with formal events, but wearing diamonds with jeans is very trendy. Wear an elaborate diamond heart pendant with jeans and a T-shirt to create a look that is unique and hip.

Pair with vintage: A shiny, modern diamond heart pendant looks great with antique jewelry. This look creates depth and texture. Wear a diamond heart necklace with a vintage cocktail ring, an estate bracelet or retro earrings.

Buy Diamond Heart Pendants
Back to Guides Directory