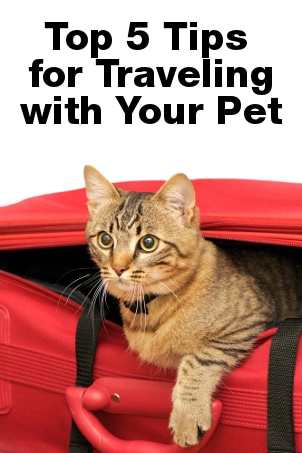 SHOP PET CARRIERS & TRAVEL NOW >>
Maybe you're visiting family for the holidays or perhaps you're taking a summer vacation. Either way, you'll want to plan whether or not to take your pets with you. If you leave your pet home, review some important vacation care tips for the time you're away. If Fido and Fluffy are heading for vacation, too, these tips can help you prepare for stress-free travel with your pet.
Pet Travel Tips:

Use identification. ID tags are an absolute must when you're traveling with your pet. Make sure your pet's collar has ID tags with current information and phone numbers. A microchip is one of the best forms of identification for your pet and can help identify him in case his tags get lost. You may want to pack a few photos of your pet as well, in case he goes missing while you're away from home. You'll also need all required paperwork, like current vaccination records, for airlines and hotels to ensure your pet meets requirements.

Make your pet comfortable. Time away from home can be hard on your pet. Make it as easy as possible by making your pet comfortable. The pet carrier should be large enough for your pet to easily stand, turn, and move around. Take some comforts from home, too, such as your pet's favorite blanket or toy. You may want to test how your pet handles traveling by taking some short car rides with him before you leave on vacation. This will let you know how comfortable your pet is on the move and will also give him a chance to get used traveling on a small scale.

Look for pet-friendly accommodations. Not all hotels and lodgings allow pets. Do your research before you leave home and find a place that allows pets. If you're staying with friends or family, make sure they know you are bringing your pet and are prepared to lodge him. You'll want to make sure the airline you fly is pet-friendly. Smaller pets can sometimes ride in the cabin with you, but most pets will be stored in the cargo bay. Cargo bays aren't temperature controlled, so fly in the morning or early evening if you can to avoid extreme temperature changes.

Learn pet first aid. When your pet is in unfamiliar surroundings, his chances of getting hurt are greatly increased. You can be prepared by learning basic pet first aid, from bandaging cuts to pet CPR. Pack a pet first-aid kit in your luggage and keep it handy anytime you're out and about. Keep your veterinarian's phone number with you, too. It's also a good idea to get the phone number and address of a local veterinarian in the area you're visiting.

Budget a little extra. You never know what will happen when you're on vacation, especially when you're taking a pet with you. You should budget a little extra to make sure you have plenty of money for vet visits, boarding, food, and anything else you may need to pay for unexpectedly. You'll probably want to give yourself a little extra time in your schedule, too. Getting around can be harder and take longer with a pet, especially with so many new sights and sounds to excite him.

Shop Portable Carriers
Shop Seat Covers & Liners
Shop All Pet Carriers & Travel
See All Guides
Read More Pet Guides
Learn More about Pet Care