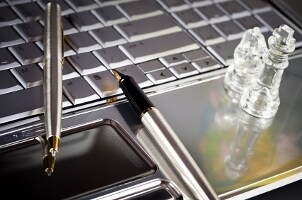 The best writing instruments are so easy to use that you hardly notice the effort it takes to write with them. Not all pens, pencils and markers are created equal. The way a fountain pen rests in your hand as you write makes all the difference. Here are five of the most important factors to consider when looking for professional writing tools.
Pen Features:

Ink: It's not just the construction that affects the quality of writing pens; the ink is important as well. The less viscous the ink is, the more easily it is absorbed by paper. Pens that use quick-drying ink are ideal for quick notes in a day planner, which can then be closed without smearing the ink. Oil-based inks dry very quickly, but they are not absorbed by the paper as readily as water-based inks.

Design: The form and aesthetic appeal of a pen are an art form, which is why fountain and ballpoint pens have become highly sought-after collector's items. Many styles vary the size, grip, color and materials. Elegant writing instruments are often handed down as heirlooms.

Weight: Pens that are too heavy are unwieldy and hard to write with. Conversely, one that's too light can interfere with your normal writing cadence. A writing tool should have just enough heft to it to provide a little resistance to your hand movements without straining your hand.

Balance: How the weight is distributed is just as important as the weight itself. A top-heavy pen can be hard to write with, but a bottom-heavy one often results in a bulky grip. It's easier to write with a pen if the center of gravity is distributed somewhat evenly throughout the length of the shaft.

Comfort: If it's not comfortable to hold and use, you'll probably want to switch to something else. If you can't write an entire paragraph comfortably, you should probably look at other pens.

Buy Pens, Pencils and Markers
Back to Guides Directory