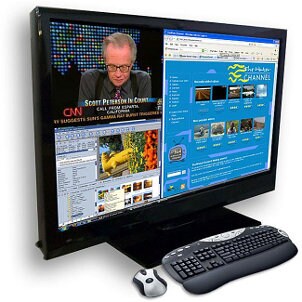 You have the big, flat panel HDTV and the home theater sound system. Have you connected your computer to that incredible home theater display and sound? If not, it may be time to fuse your computer with your home theater system. Here are the top five essential pieces of computer hardware to include in any home theater's computer system.
The Top 5:

Large hard drive. It will take a lot of hard-drive space on your computer to store all the music, movies and TV shows you enjoy. If you are using digital video recording software, you will be able to record and store TV shows and movies for playback later on. Plus, high-definition programming will take up more memory than standard-definition recordings. You may want to install one or more hard drives, 500GB or larger. Data storage is essential for a home theater computer.

Video graphics card. Having a good video graphics card will ensure that you don't get any skipping or blurring when your computer runs a video game or a movie on your home theater system. The graphics card processes all the image information so that your computer's CPU can focus on other tasks. Look for a graphics card with a fast processor speed and memory of 512MB or higher.

Sound card. A sound card is similar to a graphics card in that it takes the load of processing data off of your computer's CPU; only it processes sound information. You'll want at least a 5.1 surround-sound speaker system to take advantage of your computer's new sound processing power. You may also need to consider a sound card that supports high-definition sound transmission through HDMI cables. There's no point in having high-quality sound on your home theater computer if the sound quality is lost through a standard-definition transmission cable.

Blu-ray disc drive. Blu-ray is the industry standard for high-definition video. It is quickly becoming the center of serious home theater systems. Make sure your home theater computer can at least play Blu-ray discs. You can install an internal Blu-ray drive or connect an external one. If you feel creative, get a Blu-ray drive that can burn Blu-ray discs. You can make compilations of your favorite high-definition video clips and even burn and watch your own home movies onto Blu-ray.

Wireless keyboard and mouse. Very few keyboards and mice have a cord long enough to reach from your home theater center to your couch. Look for a wireless keyboard and mouse that can sit on a side table or coffee table, enabling you to browse the Internet and control your home theater computer from across the room. Some keyboards and mice have multimedia buttons that act as shortcuts to your media player, web browser and other frequently used programs. If your home theater is dark, especially during movies, you may need a backlit keyboard and mouse for use when the lights are off.

View All Computer Hardware
Back to Guides Directory