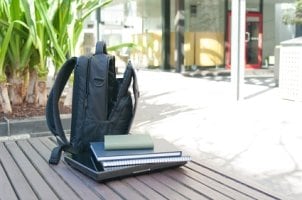 Next time you step out the door with your travel backpack, make sure you are prepared for anything. Whether you are going to work, boarding a plane or just stepping out for a walk, there are a few things you should never leave home without. Next time you restock your travel backpack, here are things you shouldn't leave home without. Whether you are sporting laptop backpacks, school backpacks, shoulder bags, tote bags, a rolling backpack or a leather backpack, never be unprepared again.
The Top 5 Travel Backpack Items:

Water bottle: No matter the length of your trip, you'll be glad to have a bottle of water. Studies show most people drink less water than they should. Many travel backpacks have drink holders included, so it's easy to tote a water bottle or other beverage. Especially for long flights or for a hike, using cup holders or extra space to store a drink will be a decision you won't regret.

MP3 player or iPod: Whether you are walking to work, school or going on a hike, you can make the time fly by carrying your MP3 player. Many travel backpacks have a storage pocket to hold your MP3 player. Some even have a hole for a headphone jack so you can keep your player in your bag. Don't let yourself get stranded in an airport for a long layover or flight delay without your favorite music close at hand.

A pen and stationary: No matter where you are going, you can find a use for these two simple, lightweight items. Don't take a pencil or else you will have to find a way to sharpen it. Stock a pen full of ink. If you need to write down an address, directions or personal information, you won't have to scrounge around to write it down. Some travel backpacks have pen holders to keep them in place without sliding all over the inside pockets. You don't need to bring a full paper notebook if you don't want. Even some sticky pads will do for most situations and might work better in some.

Spare keys: Your travel backpack is an excellent place to store extra car and house keys. If you lock yourself out of your car or house, chances are you brought your travel backpack with you.

Snacks: If you are stranded somewhere for a while or taking a break on your walk or hike, you won't have to go hungry. Put some baby carrots or pepper slices in a sealed plastic bag. Keep it in the fridge, and when you are about to head out, throw it in the top pocket of your travel backpack.

Buy Backpacks
Back to Guides Directory