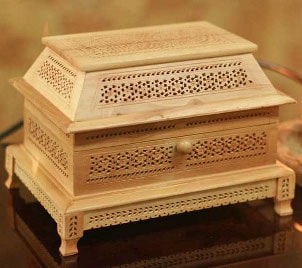 If you have a jewelry collection, you'll want to store and protect your jewelry with a beautiful jewelry box. Some of the most beautiful designs come from artisans across the world. When you purchase a Worldstock jewelry box, you're purchasing a unique piece of art handcrafted by skilled artisans. Read on to learn about the best styles of fair-trade jewelry boxes from Worldstock.
Worldstock Jewelry Boxes:

Hand-painted: Whether you're purchasing a small jewelry box from Peru or a large jewelry chest from India, a hand-painted design will add immensely to the beauty of the piece. Different countries and cultures have different traditions and painting techniques, so each piece is unique and different than anything you can buy mass-produced. Look for designs that will complement your decor and jewelry collection or go for something eclectic to hold your jewelry.

Cabinet and chest: These types of jewelry boxes are popular in Asian countries and are typically a larger style of box. They often have several large drawers or doors that open on the front to reveal hooks and shelves for your jewelry. Some have additional drawers beneath the main compartments for smaller pieces, like rings and earrings. Many jewelry cabinets are artfully decorated to reflect the country they come from, adding even more beauty to your jewelry collection.

Jewelry stand: If you're looking for an alternative to a traditional jewelry box, you may want to consider a jewelry stand. They offer a convenient way to store your jewelry if you're limited on space. Jewelry stands also give you the advantage of being able to see your jewelry easily. Hang everything from earrings to bracelets and necklaces from convenient hooks. Some stands even have a ring holder so you can store all your jewelry pieces on one stand.

Carved designs: Like hand-painting, different cultures specialize in certain forms of carving. The most popular boxes are carved from wood and feature floral or geometric designs, particularly in the lid. You can find boxes with elaborate, detailed designs hand-carved from other materials as well, including leather, bone, marble and even etched metals.

Small-scale: If you're just starting your jewelry collection or want to keep a few pieces separate from the rest, a small jewelry box is ideal. You can choose a smaller-scale version of a traditional jewelry box with a lid and drawers or look for something different. Round boxes are popular and ideal for holding rings and earrings, and fabric jewelry rolls provide an easy way to protect watches, bracelets and necklaces.

Buy Worldstock Jewelry Boxes
Back to Guides Directory