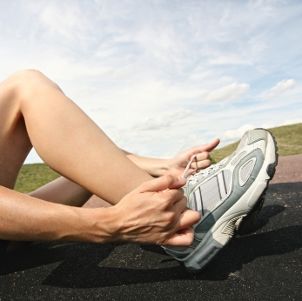 Both comfortable and casual, sneakers have been a favorite shoe for everything from sports to everyday wear. There are, however, many styles of athletic-inspired shoes and sneakers available, and women's sneakers are becoming more advanced and stylish every day. Read on to learn the top 5 styles of women's sneakers.
Styles of Sneakers:

Canvas: These classic, casual sneakers are a favorite for wearing all day long with jeans. With rubber soles, and oftentimes a rubber toe cap, canvas sneakers offer plenty of grip for indoor and outdoor surfaces. Throw on a pair of casual, laid-back canvas sneakers with jeans and a sweatshirt for a weekend camping trip or with capris and a tank top for the beach. You can even wear cute canvas sneakers with just about anything in your closet for running errands or spending time in yard on the weekends.

Walking: The walking shoe is one of the most popular styles of women's sneakers because it's built for walking around all day, making it the perfect shoe for running errands or any other time you'll be on your feet all day. Walking shoes also promote proper foot alignment and movement, reducing your risk of injury or fatigue. Wear walking shoes if you expect to be on your feet for long periods of time or if you're planning to create a walking routine for exercise.

Running: Running shoes are similar to walking shoes, but sneakers are designed to keep your feet comfortable while running. Running shoes can also help reduce injuries in your shins and joints when you run. Athletic shoes are great for your morning jog, as well as other outdoor sports. It's a great idea to keep a pair of running shoes in your closet so they'll be handy when you need them, whether you're training for a marathon or playing a game of tag with your kids in the backyard.

Oxford: These athletic-inspired sneakers draw inspiration from classic oxford shoes and meld it with a comfortable, versatile athletic sneaker. Oxford sneakers are great for everything from the aisles of the grocery store to the golf course. The rubber soles and athletic shape provide your feet with safety and comfort, and the lace-up style of these athletic-inspired sneakers offers a fashionable way to wear athletic sneakers every day.

Mary Janes: Much like other athletic-inspired sneakers, like the oxford sneaker, Mary Jane sneakers draw from the classic shoe style to create a sneaker that is both functional and fashionable. Try Mary Jane sneakers when you want a little more cushion in your step, especially if you're going to be on your feet all day. These women's sneakers look great with workout clothes, jeans and any other casual apparel.

Buy Women's Athletic Inspired Shoes
Back to Guides Directory