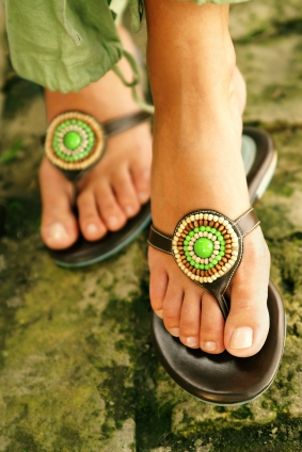 When it comes to summer footwear, sandals are easy, cool, and stylish. Whether you're spending the day on the beach or in the city, they'll look great all summer long. Before you fill your closet with these chic, summery shoes, read the following tips to help you find the best sandal styles to wear on sunny days.
Top Sandal Styles:

Gladiator: These hip sandals can be flats or heels and always give your look a trendy edge. Inspired by ancient Roman styles, gladiator sandals are defined by rows of horizontal straps. Gladiators are popular because they are eye-catching and unique. This style looks fantastic with skinny jeans, shorts, skirts, and just about anything else in your closet.

Heels: Nothing makes your legs look better than a pair of heels, and sandal styles give your legs a long, slim look with shorts and skirts in the summer. Look for strappy styles or cute wedge sandals to wear with everything in your summer wardrobe. A pair of heeled sandals looks extra good with a sundress for summer days and a sleek cocktail dress for warm evenings.

Flats: For the woman who wants a pair of comfortable shoes for the summer, flats are the answer. Popular styles of flat sandals feature strappy designs, beading, and jewels to make them stand out. These more casual sandals are perfect with jeans, capris, and shorts or with cute, casual skirts and dresses.

Ankle sandals: Bold and edgy, ankle sandals feature a wide ankle strap and an open toe. Some styles of even have a shaft around the ankle like a short boot. These fresh, unique sandals are best worn with skirts or shorts so you can show off the ankle detailing. Wear them to pound the city streets all summer long or to an outdoor concert.

Espadrilles: As the quintessential beach shoe, espadrilles are a fantastic choice in summer shoes. Espadrilles are defined by a sole made with jute or rope and a soft cotton upper. Traditional espadrilles are flats, but more modern styles feature open toes, wedge heels, and cute ankle ties. Espadrilles dress up everything from denim capris to retro sundresses.
What Do You Want to Do Next?

Start Shopping for Women's Sandals
See All Women's Shoes
See All Guides
Read More GuideCategory Guides
Learn More about Shoes