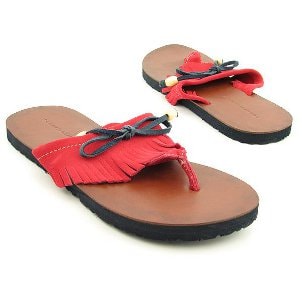 It's oftentimes the shoes that make an outfit, and with Tommy Hilfiger shoes on your feet, this is even truer. The famous design house has full lines of footwear to cater to every woman's tastes. When you're shopping for women's shoes, Tommy Hilfiger footwear is always a great choice. Read the following list of the top 5 styles of Tommy Hilfiger shoes for women and discover why Tommy Hilfiger is one of the most reputable brands to wear.
Best Tommy Hilfiger Shoes:

Boat shoes: Classic and preppy, Tommy Hilfiger boat shoes are just as at home in the city as it is beachside or lakeside. The modern take on traditional boat shoes offered by Tommy Hilfiger is not only stylishly classic, but also comfortable. Women's boat shoes are fantastic for a run to the grocery store or taking your dog to the local park for a walk. Tommy Hilfiger boat shoes come in bright colors as well as neutrals, so you can keep a pair of women's boat shoes in your closet to coordinate with all your favorite outfits.

Boots: Tommy Hilfiger women's boots range from sporty to dressy, so there's always a pair to complement your look. For dressier looks, Tommy Hilfiger boots are available in suede and leather heels and wedges that are perfect for the office or dinner with a date. Available in ankle-height or taller, Tommy Hilfiger women's boots can dress up any ensemble. Sportier styles of Tommy Hilfiger boots include winter boots and casual boots. Tommy Hilfiger's famous duck boots keep your feet warm and dry all winter long, and are fashionable enough to wear every day.

Wedges: Simply sophisticated, Tommy Hilfiger women's wedges can easily go from the office to the beach and back again. This is because Tommy Hilfiger wedge shoes are designed with classic styles in mind. A cute pair of Tommy Hilfiger women's wedges will complement just about any style and are as dressy as they are casual and simple. A pair of espadrilles will be cute with an airy skirt, and cork heel wedges are comfortable enough for running errands or strolling along a promenade.

Heels: There are few styles of women's shoes more classic than a chic pair of heels, and with Tommy Hilfiger women's shoes, heels are even better. A pair of leather Tommy Hilfiger heels is great for the office or any time you need to dress up. Choose Tommy Hilfiger heels in classic brown or black, or go for something bright and unique to add a pop of color to your look. You can even wear Tommy Hilfiger women's heels with your jeans to dress up a casual look.

Sandals: As easy and stylish as it gets, Tommy Hilfiger women's sandals are a must-have for any closet. Wear Tommy Hilfiger sandals all summer long, from the beach to the golf course, the grocery store to a weekend lunch with friends. With several styles of Tommy Hilfiger women's sandals available, it's easy to find a chic pair to complement your wardrobe. Look for Tommy Hilfiger flip-flops for a more casual look, or soft leather Tommy Hilfiger sandals for a look that's a bit dressier.

Buy Women's Shoes
Back to Guides Directory