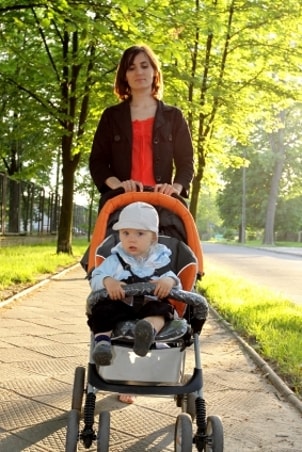 A happy baby is a baby on the go, and strollers are the perfect way to get your baby going! Whether you're planning a trip to the park, a walk around the block or even a stroll to help him settle down for naptime, you'll want a good stroller on your side. With the wide variety of strollers to choose from, however, how do you know which one is right for you and your baby? You may want to consider investing in a few strollers to meet your needs as your baby grows or invest in a stroller that can grow with your child. Whatever you're looking for in your baby gear, the following list of stroller styles can help you choose one that's right for you and your baby.
Styles of Strollers:

Stroller travel systems: These systems are perfect for your growing child. They allow an infant car seat to be attached for use while your baby is too little to sit upright in the stroller. Once your child gets older, you can use the traditional, upright stroller to tour your tyke around.

Jogging strollers: A jogging stroller allows you to get a workout while taking your baby for a stroll. Jogging strollers have a lightweight frame and tires designed to handle the bumps of roads and trails. They also typically have features to protect your baby from sun, wind and rain, like canopies and removable covers.

Prams: These classic strollers are designed for young infants and allow the baby to lie fully down in the basket. They maneuver with an old-fashioned, backward-facing bassinet design, allowing the person pushing the pram to constantly view the child. While some prams are designed to look old-fashioned, there are many modern pram designs to choose from.

Tandem and double-strollers: This style is perfect for twins or two small children who are close in age. Tandem and double-strollers place seats either side by side or one behind the other. You can even find triple strollers that seat triplets or three small children. Some tandem strollers will fold the back of the front seat down into a pram design and then fold back up to two seats.

Umbrella strollers: The umbrella strollers are designed for toddlers and older children. They often have a simple fabric seat and a waist buckle to keep the child in place. They are simple, lightweight and fold up for storage. Umbrella strollers get their name from the shape of the handles, which are curved like the handle of an umbrella. This type of stroller is very popular because it is lightweight and convenient, but it is not safe for use with infants.

Buy Strollers
Back to Guides Directory