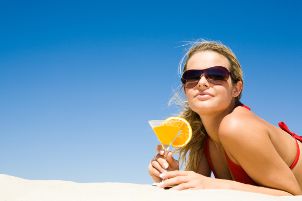 Whether you're planning on spending the whole summer at the local beach or heading to a tropical locale on vacation, you'll want the right footwear for all that sun, sand and water. Pick up a pair of sandals to wear on the beach. You'll be comfortable, stylish and ready to splash through the waves. The following styles of women's sandals are particularly good choices when you're headed to the seashore.
Best Beach Sandals:

Flip-flops: The classic beach sandal, flip-flops are an easy, comfortable option. You won't get sand stuck in your shoes, and they're easy to kick off before you head into the water. You can go for a basic style, like a classic rubber or leather pair to keep it easy. If you want to dress it up a little, look for trendy flip-flops decorated with beads or sequins.

Simple slides: As low-maintenance as flip-flops and just as easy to wear on the beach, slides are a great choice for enjoying the sea and sand. Since they're flat and lightweight, slides are easy to toss in a beach bag. Slip them on to protect your feet from the hot sand, and kick them off to jump in the water.

Sport sandals: Pick up a game of beach volleyball with sports sandals on your feet. You won't have to worry about sand filling up your sneakers, and sports sandals stay on your feet better than flip-flops, since they typically have ankle straps. Most sports sandals are fully adjustable to make sure you're as comfortable as possible. They're also great for walking along the beach and are waterproof for wading through the waves.

Gladiators and ankle straps: If you want to look chic and trendy on the beach, go for some trendy gladiator sandals or thong sandals with an ankle strap. You'll have all the benefits of up-to-the-minute style plus a comfortable shoe that won't slip off in the sand. These cute styles are perfect for beach parties or sightseeing while you're on vacation.

Low wedge: While heels are not the most practical sandals on the beach, wedges are cute and won't sink into the sand like traditional heels. A pair of low-wedge sandals is cute to wear to and from the beach and while walking along the boardwalk. Look for classic beach styles, like espadrilles and canvas styles, to keep your trendy look beach-appropriate.

Buy Sandals
Back to Guides Directory