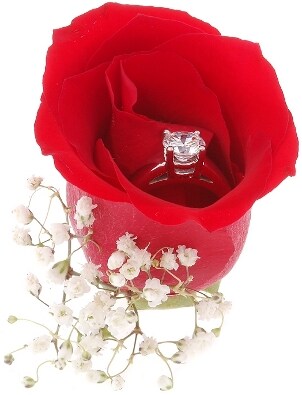 When you are shopping for engagement rings, you will find many featuring stunning cubic zirconias. Choosing a cubic zirconia engagement ring can give you the style you really want, even if you can't afford the same style in the diamond ring category. Cubic zirconia rings are built to last, especially if you select one with a platinum or gold setting. Whether as a temporary, affordable engagement ring or as an eco-friendly investment ring, cubic zirconia rings make stylish choices.
Top CZ Engagement Ring Styles:

Solitaire: If you want a big, beautiful solitaire engagement ring, but you don't have a limitless wedding jewelry budget, consider cubic zirconia engagement rings. Many have a large center stone that looks identical to a flawless diamond when viewed with the naked eye. Some have a cubic zirconia center stone and authentic diamond accents. These rings are impressive and luxurious.

Color: Colored diamonds, also known as fancy diamonds, are very trendy in engagement rings. Yellow, pink and blue diamond engagement rings can be very expensive, but cubic zirconias are available in a rainbow of hues for more affordable prices.

Vintage: Vintage jewelry styles have made a major comeback; choosing a vintage-inspired engagement ring is a great way to incorporate this trend into your daily look. Many cubic zirconia rings mimic the styles of the 1920s, the 1970s and the 19th century. Choosing one of these unique cubic zirconia engagement rings isn't a risky move because they are affordable. If your personal style changes, you can always choose a more modern engagement ring later.

Bands: Sometimes the right engagement ring is one that doesn't show off your new relationship status. If you prefer to show your love with an understated, elegant piece of jewelry, consider cubic zirconia eternity bands. Band-style rings covered with beautiful cubic zirconias will help you show your commitment and express your love.

Cocktail rings: If you are looking for a bold ring with a lot of style, then consider choosing a cocktail ring as an engagement ring. Many cubic zirconia cocktail rings make the perfect engagement rings for brides who prefer dramatic, stunning jewelry.

Buy Cubic Zirconia Rings
Back to Guides Directory