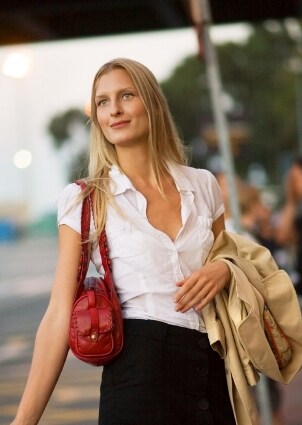 There are many styles and functions of blouses. From career shirts to more casual looks, having a few blouses in your closet gives you plenty of options for your wardrobe. Dress up a blouse with a skirt and heels or go for cool and casual with a blouse and jeans. Read on to learn all about the top five styles of blouses to have in your closet.
Best Blouse Styles:

Tailored button-down: As the basic and most popular career shirt, a button-down blouse is the ideal women's shirt for the office or anywhere else you want to look extra nice. When tailored, a button-down shirt will gently hug your figure without fitting too tight or too loose. Button-down blouses look great under pant and skirt suits. You can also pair a tailored blouse with just trousers or a skirt for a more business-casual look.

Printed and pinstriped: Add a little color to your wardrobe with patterned blouses. A pinstripe blouse is the most common style of patterned button-down shirt and can be worn to the office or anywhere else when you want to look put-together. Printed blouses add a splash of color to a dressy or casual look. A subdued floral or paisley blouse is more refined, while a brightly printed top is great for the weekend.

Casual peasant: This more casual style of blouse is an attractive and trendy style to wear with jeans, capris or even shorts during the summer. Lightweight and airy, peasant blouses have a loose-fitting style that looks great alone or cinched in with a belt. Since peasant blouses are so loose, they look best with fitted pants, such as skinny jeans, and pencil skirts to counterbalance the top.

Wrap it up: This more modern take on the classic button-down is great for either the office or dressing up more casual outfits. Wrap blouses are the perfect choice for curvier figures, since they emphasize the waist to flatter your curves. A wrap blouse can also help create the illusion of curves on a straight figure. Wear this style of shirt with dress pants or a skirt for the office or with jeans or capris on the weekend.

Shorter sleeves: A bit more easy-going, a blouse with short or 3/4-length sleeves can add variation to you business wardrobe. Women's shirts with shorter sleeves are cooler in the summer and easier to layer in the winter. A short-sleeve blouse looks great under a blazer or paired with a tailored skirt and cardigan. Short-sleeve blouses give a casual outfit a touch of sophistication.

Buy Women's Shirts
Back to Guides Directory