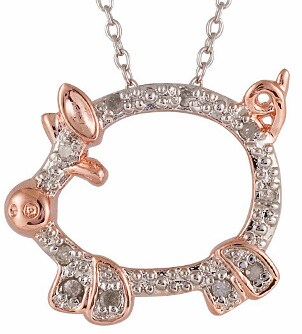 To bring out the pink undertones in your skin, wear a beautiful piece of rose gold jewelry. Rose gold is natural gold that has been alloyed with copper to give it a pink or red hue. It has enjoyed popularity in many cultures, including those in Russia and parts of the Middle East. Consider one or two of these top five rose gold jewelry styles.
Stylish Rose Gold Jewelry:

Intertwined band rings: Intertwined band rings are very trendy at the moment. These rings incorporate two, three or more bands into one ring to give the appearance of artful stacking. Rose gold is a great choice when shopping for intertwined band rings. Rose gold bands are often paired with white gold and yellow gold bands for a textured look. Wear this fashionable gold jewelry with gold necklaces and bracelets for stylish accessorizing.

Gemstone earrings: A bit of sparkly jewelry near your face brightens up your entire ensemble. Rose gold is a beautiful metal to wear on your ears. Choose pink gemstones to match the pink gold. Pink sapphires, rose quartz, pink opals, rubies and morganites are perfect choices for rose gold gemstone earrings. Choose from simple rose gold gemstone studs and dramatic rose gold chandelier earrings.

Stackable bangles: Gold bangles are easy to wear because they go with everything. Rose gold stackable bangles can be worn alone or mixed and matched with yellow gold, white gold or sterling silver bracelets. Wear thin rose gold bangles with a leather cuff or a braided bracelet to incorporate texture into your look.

Vintage cocktail rings: Rose gold has a decidedly retro aesthetic. Vintage cocktail rings in rose gold bring the styles of decades past to your jewelry collection. Wear a vintage rose gold cocktail ring with skinny jeans and a crisp white shirt or add sparkle to a cocktail dress with a rose gold gemstone estate ring.

Delicate pendants: Gold is malleable by nature, making it the perfect metal for intricate jewelry. Delicate rose gold pendants will add a splash of color to your neck without overpowering your entire look. Choose pendants crafted into roses, leaves, animals, hearts, keys, bows and fairies. Wear several rose gold pendants on one chain for fashionable layering.

Buy Rose Gold Jewelry
Back to Guides Directory