by Barbara T. Biehler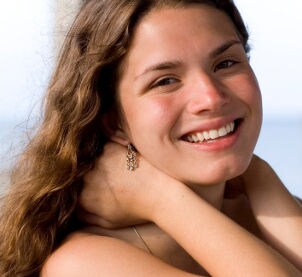 A set of diamond earrings is beautiful and highly coveted. Diamond earrings are the perfect jewelry addition to a woman's wardrobe because they bring a bit of sparkle to any outfit and frame her face. Diamond jewelry is always a good gift, and diamond earrings are a great choice because they are always guaranteed to fit and impress. When you are shopping for diamond jewelry, you have a plethora of style choices. Let us help you narrow them down with our top five diamond earring styles.
Top 5 Diamond Earring Styles:

Studs: Diamond stud earrings are classic jewelry options that can adorn the ears of a woman of any age and style. Stud earrings incorporate one or more diamonds placed in one setting with a simple post that keeps the earring in the center of the earlobe. They can be large or small and are beautiful in any setting, whether gold, silver or titanium. Wear diamond stud earrings with a formal dress or a business suit.

Solitaire: A single diamond forms each earring in a diamond solitaire set. Each diamond is distinctively cut to display the beauty of a solitary stone. Diamond solitaire earrings can be stud earrings, or they can dangle below the earlobe, catching the light with every movement. Wear diamond solitaire earrings to a nice dinner or a garden party.

Hoops: Hoop earrings are fun and flirty, and when they are covered in diamonds, they sparkle and shine with a unique luster. Hoop diamond earrings are available in a variety of sizes. Wear small diamond hoops to work or don extra-large hoops for a night on the town. Diamond hoops are also available in different shapes, including ovals, circles and hearts.

Dangling: Dangling earrings come in many different types and styles. Dangling diamond earrings are gorgeous and extravagant, hanging below the earlobe and dancing about. Chandelier diamond earrings are designed with a lot of intricate metalwork and dangle like chandeliers. Solitaire earrings are often fashioned into dangling styles on a simple silver or gold earring. Some dramatic dangling diamond earrings hang several inches below the earlobe and are perfect for formal events.

Colored diamonds: Diamond earrings are usually neutral and subtle, but a special pair of pink, yellow or black diamond earrings makes a great gift and adds color to an outfit. Colored diamond earrings come in different styles, including studs, dangly earrings and hoops. Choose colored diamond earrings that will match your wardrobe or select a favorite color of the gift recipient.

Buy Diamond Earrings
Back to Guides Directory