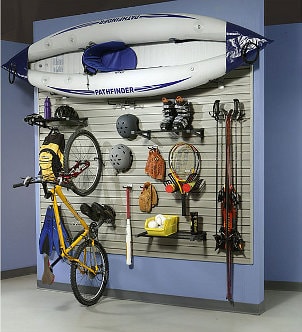 Good organization is about maximizing your available space. With the proper storage unit, you can store more items and make better use of available space. The key is to choose the right storage and organization tools. Here are five storage unit designs that can get you started organizing any space. Consider the space you want to organize as well as the objects you need to sort through and you'll be ready to select a storage unit for your specific application.
Storage Unit Types:

Storage cabinet: Storage cabinets are great because they often contain multiple shelves, pockets and drawers to hold a variety of items. A cabinet has a limited footprint because it takes advantage of vertical space. A large cabinet or storage unit is best for the garage, an office or even outdoors if it's weatherproof.

Adjustable shelves: Shelves that you can swap out or adjust are useful because you won't need to reinstall them if your storage needs change. A storage unit with shelving standards and brackets can be reconfigured quickly and easily.

Storage racks: You have multiple options when it comes to storage rack. A storage rack is usually designed for a specific purpose, like storing cans in a pantry or pairs of shoes in your closet. These storage units are extremely space-efficient since they're designed to hold objects with specific dimensions.

Pegboard: Pegboard, mounted on a garage or basement wall, is another adjustable storage unit type. Use pegs and brackets to hang tools and other equipment, rearranging as needed.

Drawer systems: Drawer systems are a great storage unit type for any room in your house where various loose items need precise organization. A multi-drawer cabinet can be used to organize sewing tools, craft supplies or workbench odds and ends.

Buy Storage and Organization
Back to Guides Directory