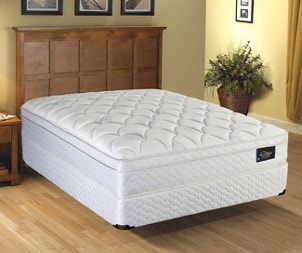 Affordable, ergonomic and durable: All these key features can be found in Spring Air mattresses. Founded in 1926, Spring Air has made a business out of producing mattresses that are supportive and comfortable, without costing a fortune. Whether you're looking for a Spring Air mattress that uses traditional innerspring technology or a modern latex mattress, keep reading to learn more about the top 5 Spring Air mattress styles.
Top 5 Spring Air Mattress Styles:

Nature's Rest. Eco-friendly latex mattresses help reduce your carbon footprint and last longer than standard innerspring mattresses. The Nature's Rest mattress line from Spring Air uses natural latex to cradle your pressure points, aligning the spine and providing an even sleeping surface. Latex foam mattresses are the perfect solution for people with back problems and also provide a hypoallergenic sleeping surface for allergy sufferers.

Four Seasons. The Spring Air Four Seasons mattress combines innerspring flexibility with memory foam comfort for a mattress that is deceptively supportive. This luxury mattress from Spring Air features cashmere batting and a unique design that focuses on different zones of the body. By providing varied spring support to the areas that need it most, Spring Air has created a mattress that feels customized to your body.

Alpine Plush. The Alpine mattress is a basic mattress option that works well for people who enjoy the feel of an innerspring coil, but need a little more support for the lower back area. The affordable Alpine mattress features Spring Air's "Back Supporter" technology that uses high-density coils and a foam core for extra support to fight lower back pain.

Cascade Euro top. The Cascade mattress was designed to provide a peaceful night's sleep thanks to innerspring technology that laces the coils together for fewer disturbances and a firm foundation. The Cascade bed also features a supportive foam core and a thick layer of plush pillow-top batting for lumbar support that doesn't feel too hard.

Meadow pillow top. This pillow-top mattress from Spring Air is perfect for couples that need an all-purpose mattress. Not too firm or too soft, the Meadow pillow-top mattress has a firm innerspring core with a lightweight pillow top for a little bit of extra cushion.

Buy Spring Air Mattresses
Back to Guides Directory