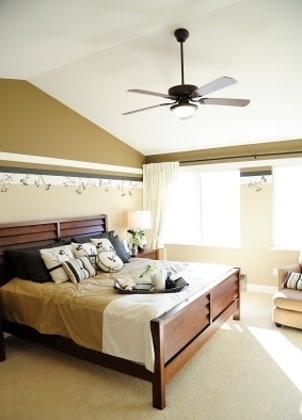 Bedrooms are made for relaxing, but many times they are filled with clutter. To create a feeling of tranquility, clear out the stuff and maximize floor and closet space with easy space-saving ideas. For children, a place to keep toys and clothing can help keep rooms organized. If you're looking for help with storage and organization, consider these space-saving ideas for your bedroom.
Organize Your Bedroom:

Choose a bed with storage: Usually, the largest item in the bedroom is the bed itself. You might consider some rearranging if your bed is placed in an awkward position in the bedroom. Your bed should be the centerpiece of your bedroom, but it doesn't have to be in the center of the room. Many beds, including children's styles, come with drawers or storage built in. These are ideal, since you can place anything from the house in the inconspicuous storage space, including holiday decor, seasonal clothing, games, books, or toys. Storage beds can give you a place to store extra bedding or out-of-season clothing.

Add shelves: Whether it's your bedroom or a child's bedroom, shelving is a simple space-saving idea that gives you a place to put your things. Instead of placing items on dresser tops or nightstands, incorporate floating shelves into the bedroom to hold items that aren't used very often. Using the walls will also free up furniture or floor space, making the room appear larger. Shelves with bins are great for children, and they'll make it for kids to clean up after playtime; keep their shelves low, so they have access to toys.

Take advantage of the space under your bed: A simple space-saving technique is to place seasonal clothing or decor in plastic bins that easily fit under the bed. Storage bins with low profiles make great bedroom storage. Some come with attached wheels to make moving them easier.

Add a cabinet: Adding a piece of storage furniture to your bedroom, like an armoire or wardrobe, is space-saving furniture that can actually make the room feel less cluttered. Choose a cabinet that matches your existing bedroom decor. Use it for storing bedroom items that you use frequently, like throw pillows and extra blankets. If you have a very small bedroom, look for a corner cabinet.

Re-organize the closet: Not every bedroom has large walk-in closets, so it's important to maximize the closet storage you have. Keep items off of the closet floor to make the space appear larger. Add shelving for shoes, hats or accessories. You can use wall-hanging organizers to save space as well. A pocketed shoe organizer is a great space-saving idea, which helps keep shoes together and off the floor. An additional clothing rod, simply extended from wall to wall, can be placed halfway below the original rod. This gives you space to store additional clothing, leaving more space on the top for clothing to be seen for easy scanning.
What Do You Want to Do Next?

Shop for Closet Storage
Shop for Storage Beds
See All Storage & Organization
See All Guides
Read More Home Guides
Learn More about Storage & Organization