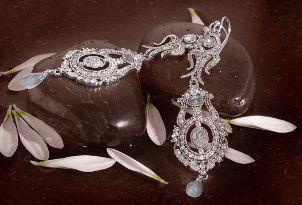 Silver earrings are a jewelry staple for many women. Silver earrings match most colors well and are flattering to a variety of skin tones. Silver is also a cost-effective choice and silver jewelry pieces are available across a wide range of prices. To start building a versatile sterling silver earring wardrobe that suits all occasions, try adding the top five silver earring styles to your jewelry collection. With these silver earrings, you can easily be well-accessorized, no matter what you are wearing.
The Top 5 Earring Styles:

Hoops. Silver hoops of all sizes are a silver earring style mainstay. Beautiful sterling silver hoops are suitable for casual, business and evening fashions. They are also available in a variety of finishes and with many intricate designs and embellishments. Try wearing a large, thick pair of silver hoops with jeans and a tank top, or wear a set of delicate hoop earrings with dangling hearts to work. Petite hoops make great gifts for young girls and pre-teens and can be worn with almost any outfit.

Studs. Silver stud earrings are understated and appropriate, while still being beautiful and feminine. Silver studs can be simple, embellished with a small silver ball or they can be crafted with diamonds, gemstones or pearls. Sterling silver stud earrings are extremely versatile and can add a lot to a variety of fashions. Silver studs also look great when paired with other silver jewelry items, such as a silver bangle bracelet or dainty silver pendant necklace.

Dangling. Dangling silver earrings are perfect for showing off your individual style and boldly accessorizing an outfit. Dangling silver earrings are often works of art, ranging from demure to extravagant. Chandelier silver earrings often incorporate precious stones and intricate metal-work for a design that is eye-catching and stunning.

Novelty. Novelty sterling silver earrings are a lot of fun and can bring a touch of whimsy to your overall look. Silver designs in the shape of paw prints, horses, lady bugs, peace signs, and angel wings are fun to wear with a business suit or a pair of jeans. Novelty silver earrings also make great gifts.

Two-toned. Silver earrings with a touch of other precious metal can seem very extravagant, while also being quite affordable. These earrings incorporate silver, gold and other metals in one earring, creating designs such as hearts, stripes, swirls and lattice. Two-toned sterling silver and gold earrings are versatile because they can be worn with gold jewelry and accessories or silver tones.

Buy Sterling Silver Earrings
Back to Guides Directory