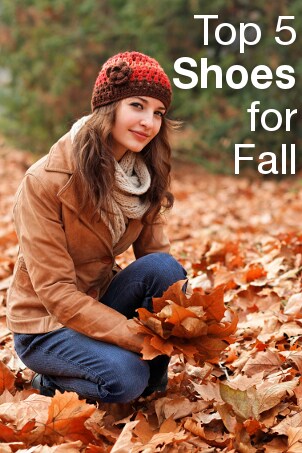 SHOP WOMEN'S SHOES NOW >>
The changing weather calls for a changing wardrobe, and your shoes are no exception. When it's time to stow your sandals away for next summer, exchange them for something equally chic. You'll want to make sure your women's shoes for fall are both fashionable and functional, since the changing weather can bring everything from wind and rain to the crisp coolness of sunny autumn mornings. These tips can help you select shoes that can hold their own in any weather and any fashionable scene.
Best Fall Shoes for Women:

Boots: When the weather turns colder, there's nothing better than a warm pair of boots on your feet. Boots are the epitome of fall fashion, too. From flats to wedges, ankle booties to fur-lined, there's a pair of boots for every occasion and every turn the weather makes. Kick up fall leaves in a chic pair of slouch boots or splash through autumn showers with a sleek pair of rain boots.

Textured flats: Tweed, wool, and even suede give ballet flats a fall makeover. Warm fabrics and sumptuous textures keep your toes warm when the sun wanes. Look for flats with fun fall details, like ruffles, buckles, or studs, to wear with your skinny jeans or skirt and cable-knit tights.

Oxfords: Classics never go out of style, and oxfords are the quintessential fall shoe. Oxfords are perfectly stylish for everything from the office to the campus and everywhere in between. Choose a flat style if you need them to be comfortable, or choose oxfords with a heel for a timeless look that is very versatile.

Clogs: Fresh, modern updates on this classic style have taken clogs from heavy wooden shoes and garden wear to sleek wedges and heels you'll love to step out in. What makes clogs so perfect for fall? These versatile shoes go with everything from your skinny jeans to your knits, and the slip-on styling makes them an easy, chic option. Throw them on when you're headed out the door and kick them off when you come back home.

Mary Janes: Fall signals back-to-school fashion, so get a cute schoolgirl look with a sweet pair of Mary Janes. Mary Janes typically have a stylishly rounded toe and thicker sole, making them perfect for walking through leaves, rain, and anything else fall brings your way. Pair your Mary Janes with a cute autumn dress and a scarf or a chunky sweater and corduroy pants for a warm, stylish fall ensemble.

Shop Women's Loafers
Shop Women's Boots
Shop All Women's Shoes
See All Guides
Read More Clothing & Shoe Guides
Learn More about Shoes