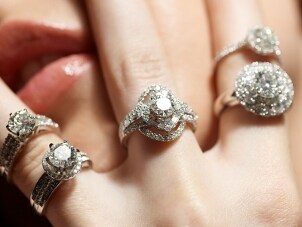 Inject more sparkle into your life with cubic zirconia rings. CZ rings are gorgeous and durable, yet they are more affordable than diamond and gemstone rings. Cubic zirconias look just like diamonds; it takes a trained gemologist to tell the difference between the two stones. Cubic zirconia rings make beautiful and budget-friendly engagement rings, as well as stunning fashion jewelry. You can buy cubic zirconia jewelry for yourself or for a loved one, but before you shop, consider these tips on CZ ring settings.
Cubic Zirconia Ring Settings:

Prong: Prong settings are classic; this setting is a favorite for engagement rings because it allows a large stone to fill with light from the top and the bottom. Prong settings hold the gem between four or six prongs. When shopping for engagement rings, you will see many rings with brilliant cubic zirconias in prong settings. Make the choice to buy cubic zirconia jewelry with your fiance. The two of you may love the idea of saving money while avoiding conflict gemstones. Many CZ jewelry lovers also appreciate the fact that the stone is created in a lab, rather than harvested from the earth, making cubic zirconias more environmentally friendly than some other stones.

Bezel: Bezel settings are also great choices for cubic zirconia engagement rings. A bezel setting securely holds a gem in a ring of metal. These settings are very durable, and they give you extra shine by incorporating more platinum, gold or silver into the jewelry. Bezel settings are beautiful on cubic zirconia cocktail rings.

Pave: Pave settings feature multiple gems set flush into the metal in an elaborate pattern. Cubic zirconia rings with pave settings reflect a lot of light, creating an almost blinding amount of sparkle and shine. Pave CZ jewelry is popular in fashion jewelry and designer jewelry collections.

Channel: Channel settings are most commonly seen in wedding bands. These settings feature small stones side-by-side in a band-style ring. Cubic zirconia rings with channel settings make great stackable fashion rings, wedding bands and anniversary rings.

Tension: Tension settings are very modern; these settings hold a stone in a space in the metal, squeezing it from both sides. Cubic zirconia rings with tension settings make for unique engagement rings, interesting wedding bands and contemporary fashion rings.

Buy Cubic Zirconia Rings
Back to Guides Directory